Contemporary dance comes to life in NewDANCEfest X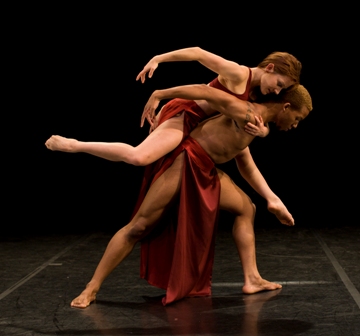 Metro Detroit's Eisenhower Dance Ensemble (EDE) will present an evening of inventive works at their annual celebration of dance, NewDANCEfest X, on Saturday, February 11 at the Berman Center for the Performing Arts in West Bloomfield.
The pinnacle of the evening will be the revival of Bolero by Michigan choreographer, Steven Iannacone. Bolero is the celebrated orchestral piece by French composer, Maurice Ravel, and was originally composed as a ballet.
"Steven's modern interpretation of Bolero, which is such an iconic work, is fun, provocative and thought provoking. You can't help but be pulled in by the music and the movement," said EDE Artistic Director, Laurie Eisenhower.
The evening's repertory will also include EDE's premiere performance of Image by Eisenhower, and a showing of her new work Love, Love, Love.
Rounding out the program are audience favorites; Encore Finale from New York City choreographer Daniel Gwirtzman, Taking Back by EDE Associate Artistic Director Stephanie Pizzo, and Harrison McEldowney's comedic work Dance Sport, which EDE first premiered in December, 2011.
Tickets are available through the Berman Center for the Performing Arts website or by calling the Berman Center box office at 248-661-1900.