Costume Gallery Awards 2011 Beverly Miller Dance Scholarships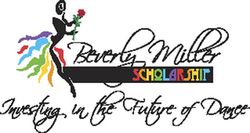 Congratulations to the twenty five exceptional students who received Beverly Miller dance scholarships! Costume Gallery distributed $13,000 to hard working dancers. This year's award process was more competitive than ever, as a record breaking 730 applications were received! Essays written by students as young as 12 and as old as 21, described passion for dance, and years of hard work. Quite a few expressed the strong desire to assist their parents with the financial burden of their dance studies. The deserving students each received $500 to pay for dance related expenses.
There was huge excitement the day before Thanksgiving, as Costume Gallery staff contacted the teachers of the winning students, asking that they call the winners with the good news. There were tears of joy from coast to coast. Ellen Ferreira, daughter of Bev Miller and CEO of the company said, "Being able to impact the lives of so many young dancers brings great joy to our family and the employees of Costume Gallery. My mother would have loved being honored in this way."
Over the past four years Costume Gallery has awarded $45,000 to enable worthy students to fulfill their dance dreams. Beverly Miller and her husband Norman, owned and operated Costume Gallery, serving the dance community for over 50 years. They were inspired by the personal and social values gained by participating in dance programs. The scholarship was established in Beverly's honor, to help students defray the many costs associated with their dance education.
Special congratulations to Lauren Turbeville, from Tilley's Dance Academy in Statesville, NC, the $1000 winner. For a full list of 2011 Beverly Miller Scholarship recipients, please visit the Scholarship page at www.costumegallery.net or the company's Facebook page.
Costume Gallery salutes all the teachers who encourage these and countless other dedicated dancers every day!
For more information contact: Ellen Ferreira or Linda Bradbury at 609 386-6601