DailyDanceWear: Presenting Giorgia Bovo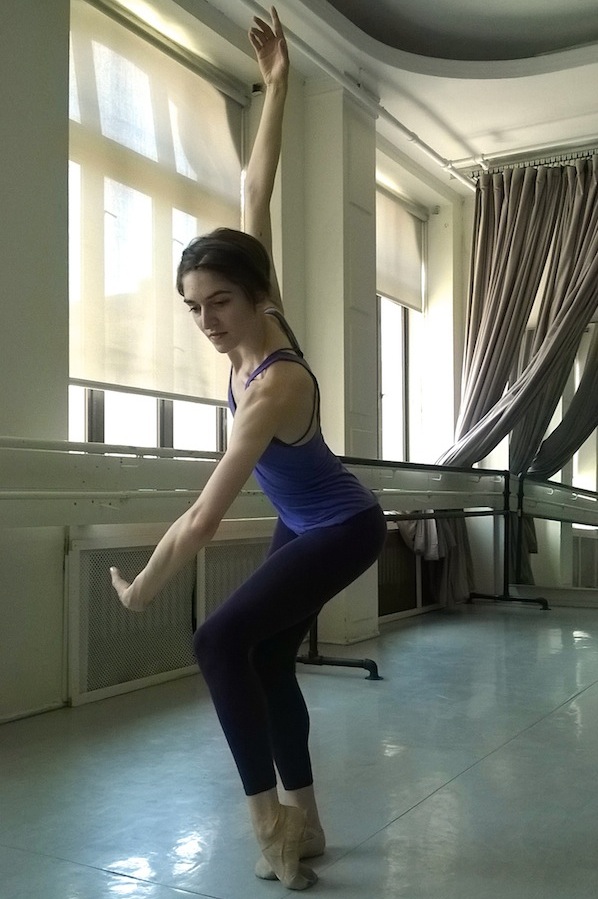 When comfort and aesthetic work in harmony, you're set. Featured this week for DailyDanceWear is Giorgia Bovo, a freelance contemporary ballet dancer who never fails to put together successful outfits for her days full of dancing. Giorgia grew up in Italy and is now based in New York City, where she dances with companies like Cherylyn Lavagnino Dance, works with independent choreographers like Gabrielle Lamb, and has developed her own video series called Uselessness Project.
Giorgia wore this sporty-sleek outfit while teaching company class for Cherylyn Lavagnino Dance before their rehearsal. She got her leggings at Uniqlo, her tank top at American Apparel, and her sports bra with the cool web design from Free People.
"Under a tank, I normally wear a sports bra," she explains. "I love wearing tanks as opposed to shirts because I normally get really hot while dancing."
Why this outfit? Again, it all comes back to both looking good and feeling good, with a dash of encouragement.
"I like wearing leggings because they keep me warm, but at the same time, the line of my legs is visible, and that makes me work harder than when I wear soft pants," she admits.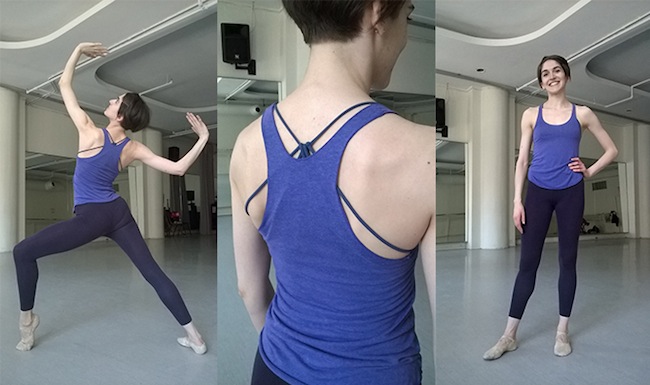 Thus, her basic choice of silhouette affects her technique. She also goes for all cotton apparel because it feels nice and lets her skin breathe. The bra, of course, has a really cool design that peeks around the tank top. Whether she wears a tank/bra combo or a leotard depends on what she's working on that day.
"In a rehearsal setting, I prefer wearing a leotard because [it] makes partnering easier… but I avoid leotards any time I can as I prefer the more comfortable feel of something that is not so tight," she explains.
Check it out and tell us what outfits you love to wear! To see Giorgia's Uselessness Project, visit https://vimeo.com/uselessnessproject. Visit www.cherylynlavagnino-dance.com to learn more about Cherylyn Lavagnino Dance.
Images: Giorgia Bovo modeling her dancewear. Photos by Leigh Schanfein.