'Dance Academy' movie finally coming to U.S.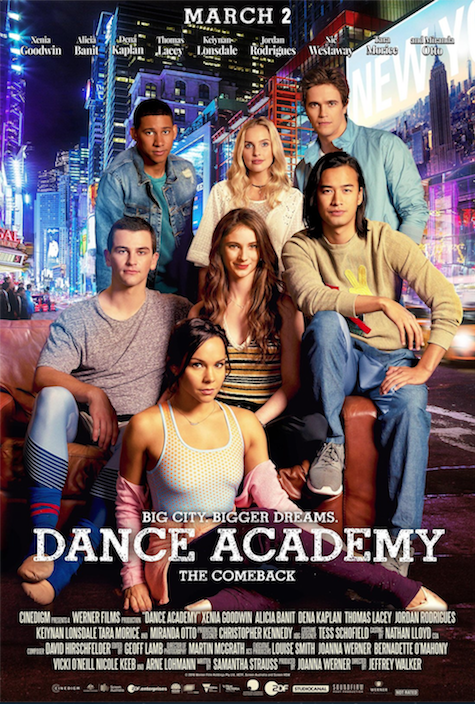 American fans of Dance Academy, it's time to celebrate! It has been revealed that the highly anticipated movie Dance Academy: The Comeback is now officially bound for select U.S. cinemas! Mark your calendars for March 2!
When the popular Australian dance drama ended in 2013 after three seasons, Australian viewers were left to question if lead character Tara (played by Xenia Goodwin) would ever dance professionally again. In the years that followed, the show took off in America through streaming services like Netflix, Hulu and YouTube. The continued growth led show creators Samantha Strauss and Joanna Werner to write and produce a reunion movie.
The movie was released in Australia last April but remained unavailable to American fans until now. In the film, Tara is dancing again and she finally decides who her heart belongs to – Ben (played by Thomas Lacey) or Christian (played by Jordan Rodrigues). Her best friends Kat (played by Alicia Banit) and Abigail (played by Dena Kaplan) are back too, along with Ollie (played by Keiynan Lonsdale). The movie introduces new faces too – like Miranda Otto and Nic Westaway.
The film's official description says, "In her quest to defy the odds in a near impossible comeback, Tara leaves her life and love behind in Sydney and travels to New York. But as the rejections pile up, and Tara tears herself apart trying to fit the unrelenting ballet mold, she must learn to find, and trust, her own voice before she loses everything that truly matters in the pursuit of a dream."
Watch the trailer for Dance Academy: The Comeback, directed by Jeffrey Walker, below.
Here's a list of the select theaters screening the movie on March 2:
Los Angeles, CA: AMC Citywalk 19 in Universal City
Dallas, TX: Mesquite 30
Houston, TX: Gulf Pointe 30
Orlando, FL: Universal Cineplex 20
Detroit, MI: AMC Star Southfield 20
Minneapolis, MN: Emagine White Bear 21
Miami, FL: AMC Aventura Mall 24
Phoenix, AZ: Deer Valley 17
Philadelphia, PA: Philadelphia Mills Mall 14
Tampa, FL: Veterans Expressway 24
Toronto, ON: Carlton Cinema
According to EW, the film will also be made available on DVD from Cinedigm starting April 3. See an exclusive clip of Tara rehearsing with Ben here.
Poster image courtesy of Cinedigm.