'Dance at Socrates' concludes this weekend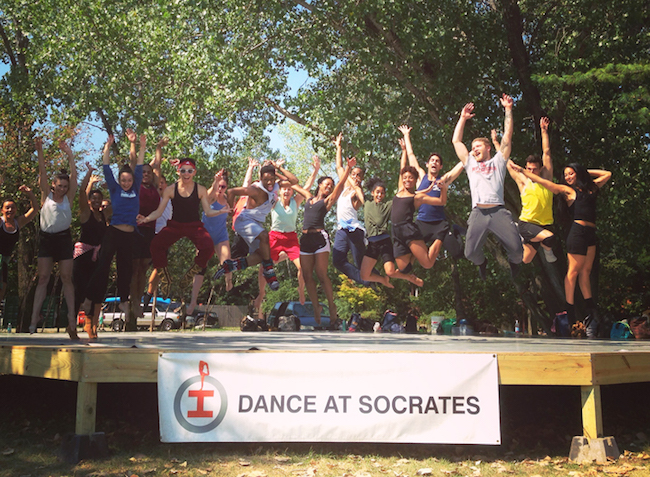 This Saturday, August 22, the summer dance series "Dance at Socrates" will conclude with performances by Gleich Dances, Meagan Woods & Company, BOOMERANG Dance and Brynt Beitman at 4 p.m. This three-week series, now in its third season, brings New York-based choreographers and their dancers to the East River waterfront to develop a site-specific dance.
Presented by think-tank Norte Maar in collaboration with Socrates Sculpture Park, the 2015 series has already presented performances by DELIRIOUS Dances, RudduR Dance, Project 44, L & K Dance, Jenni Hong Dance and 10 Hairy Legs Projects over the last two weeks.
This final program presents the world premiere of Where Can You Be? by Meagan Woods & Company, set to music by Johnny McEvoy, Andrew Sisters, Black Keys and John Hopkins. This work offers a comedic, though heartfelt, look at city dwellers that desire both intimacy and detachment. A pair of male dancers seeks nearness and craves independence, while finding the line between strange company and meaningful companionship.
Also on the program is: Gleich Dances' work-in-progress Knight Moves, inspired by the rarely seen late paintings of Abstract Expressionist painter Jack Tworkov; BOOMERANG's Matty Davis and Kora Radella in Gut Check, set to text by playwright/filmmaker/writer Will Arbery; and the world premiere of Brynt Beitman's WAKE, a dramatic contemplation of the many facets of memory.
Visitors to Socrates Sculpture Park will enjoy not only these performances, but also the unique contemporary sculpture it is well known for.
"Norte Maar's 'Dance at Socrates', now in its third year in collaboration with Socrates Sculpture Park, provides an incubator for new choreography and is a terrific way to enjoy Saturday afternoon dance performances in a fun and inspiring setting," said Norte Maar Co-Founder Julia K. Gleich.
With the stage nestled in the grove of Aspen trees, "Dance at Socrates" is an intimate look at the artistic development, creation and production of dancemaking. For more information, visit nortemaar.org.
Photo courtesy of Norte Maar.