Dance Camera West's 'Restructure' Festival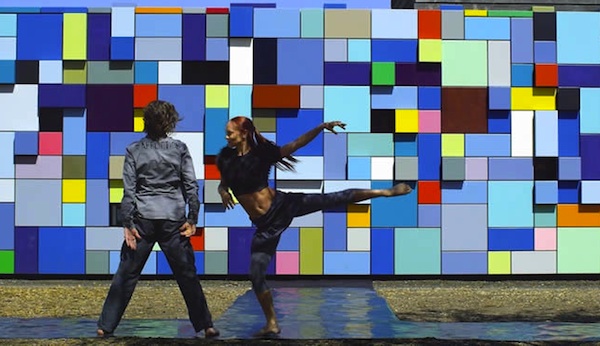 Dance Camera West will return to downtown Los Angeles this weekend to present its 13th Annual Dance Media Festival, "Restructure." Presenting live performances, conversations with artists, and of course, a full roster of curated dance films, Dance Camera West's festival will take place at a host of venues, including The Music Center, Grand Park, REDCAT, MOCA and Union Station.
Dance enthusiasts, filmmakers, art fanatics and "regular Joes" will all find something to their liking at this festival. Showcasing many forms of dance, including modern, post modern, ballet, world dance, tap, dance theater and hip-hop, Dance Camera West presents a stunning variety of performance and films.
Kicking off this year's festival, L.A.-based repertory company BODYTRAFFIC will premiere a commissioned work on a sculpture created by artist Gustavo Godoy. Choreographed by Victor Quijada, five dancers will climb, jump and weave through the huge installation on opening night, Friday, June 6, at 7:30 p.m. in a free live performance at The Music Center Plaza. The work will also be presented at the same location on Saturday, June 7 and Sunday, June 8 at 2 p.m.
Amongst the films that will be shown at the festival, a few highlights are: Drop the Game, a ScreenDance Diaries feature from January that was shot in the U.S. and Australia and features choreography by Storyboard P in a grimy, nocturnal landscape; Revolve Dance Company's Angsters, shot in site specific locations in Houston and choreographed by Amy Cain; Slovakian director Andrea Sudorova's Adelaars, inspired by a Mongolian ritual dance and choreographed by Jan Sevcik; Mitchell Rose's international film Globe Trot, a crowd-sourced dance-film project that was created remotely by 54 filmmakers on all seven continents with choreography by Bebe Miller; and Greg Vander Veer's documentary Miss Hill: Making Dance Matter, telling the inspiring story of influential dance educator Martha Hill.
Two other special feature films include: UPAJ: Improvise, a behind-the-scenes documentary following the creation of India Jazz Suites, a collaboration between tapper Jason Samuels Smith and Indian classical dance icon Chitresh Das (with a Q&A with both dancers following the screening), and Free 2 Be Me, a heartfelt documentary about a group of dedicated dancers, each of whom has Down Syndrome.
On Saturday, June 7, L.A. Contemporary Dance Company will present the site-specific adaptation of Kate Hutter's Prite Oef Stringh at Grand Park. Afterward, the Lester Horton Awards will be presented, as well as DCW outdoor screenings.
Each year, the Dance Resource Center presents the Lester Horton Dance Awards devoted to celebrating Southern California's dance community and those who keep it thriving. The Horton Awards recognize advocates, educators, artists, presenters, funders, and other community members who advance the field of dance and enhance the diversity and vibrancy of our community. This year, the California Dance Educators Association Award will go to Shana Habel; the Career Transitions for Dancers Award will be granted to Bobbie Bates; the
Latino Arts Network Award will be given to Juanita M. Lopez; and the
Dance Resource Center Award will be presented to George Lugg.
Another notable presentation this year is a YouTube choreographers and directors discussion in collaboration with DANCEAMATIC on Sunday, June 8. The panel discussion will focus on the new wave of content creators who are sharing their work primarily on YouTube and other social media. Featured screenings include: Josh Killacky's Let Me Love You, Tim Milgram's Jammin, Alvin de Castro and Frace Mercado's Euphoria and Stewart Maclennon's You Know You Like It.
For schedule details and tickets to Dance Camera West's "Restructure" Festival, head to DanceCameraWest.org.
To celebrate the 2014 festival, Dance Camera West and Los Angeles Film Festival will co-present the Third Annual Dance-A-Long the following weekend on Friday, June 13. This dance party and movie screening will be held at Union Station starting at 7:30 p.m.
Photo (top): A still from Revolve Dance Company's Angsters film. Photo (left): Slovakian director Andrea Sudorova's Adelaars film. Photos courtesy of Dance Camera West.