Dance Canvas unveils 2014 choreographers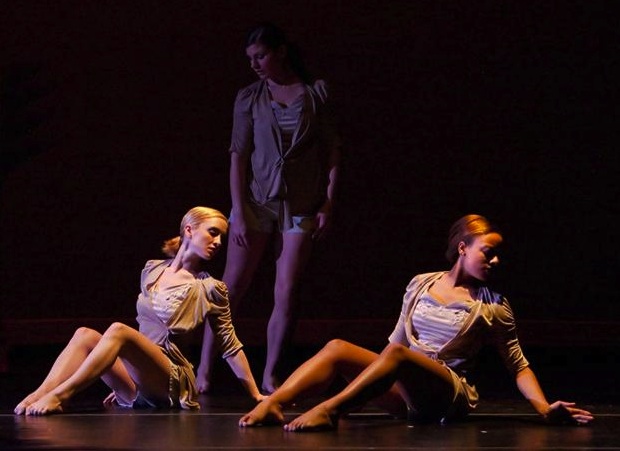 Atlanta-based Dance Canvas, a platform for emerging professional choreographers, will return to the Woodruff Arts Center's 14th Street Playhouse on January 17 and 18 for its annual performance series, featuring choreographers from across the country.
The annual performance series is the culmination of six months of work by the 10 selected choreographers of Dance Canvas' Choreographer Career Development Initiative. This year's production features dance works in ballet, modern, contemporary, as well a regional premiere of an award-winning aerial composition.
Dance Canvas' 2014 choreographers include: James Atkinson (Alabama and NYC), Assistant Professor at University of Alabama and Artistic Director of Classical Contemporary Ballet; Kelsey Bartman (Pittsburgh), Associate Artistic Director of Texture Contemporary Ballet and former Nashville Ballet company member; Morgan Carlisle (Atlanta), alumna of Kennesaw State University; Caitlin McCormack (Augusta), former company member of Wideman Davis Dance and alumna of the University of South Carolina; Margret Morrisey (Atlanta), alumna of Northwestern University and Artistic Director of Dance at PACE Academy; Alicia Thompson (Atlanta), former company member of Dallas Black Dance Theatre II; Annalee Traylor (Pittsburgh), Principal Dancer with August Wilson Dance Ensemble and alumna of Point Park University; Paper Doll Militia (International) with choreographers Rain Wilson and Sarah Bebe Holmes; and Christopher Hall, the chosen Kennesaw State University Student Choreographer.
Founded in 2008, Dance Canvas has grown to become a multi-faceted dance resource in Atlanta, reaching thousands of arts lovers and new audiences annually through their engaging performances. Each year, Dance Canvas announces a call for submissions from choreographers interested in developing new work. Ten emerging professional choreographers are selected to create and present new work, showcasing the diverse artistic voices of new dance artists. Choreographers are provided with resources, such as studio space, access to professional dancers, promotion, costume assistance, artistic feedback and professional documentation.
This year, Dance Canvas was awarded a $25,000 Partner grant from Georgia Council for the Arts for the 2013-14 season.
"We are so excited to grow our services to Atlanta audiences, as well as the choreographers and dancers we work with. We plan to have more development opportunities for our choreographers, as well as new performances and master classes for the community," says Angela Harris, Dance Canvas' Executive Director.
The reach of Dance Canvas now spans beyond metro Atlanta. Four of the selected choreographers are from outside of Atlanta, including Sarah Holmes, who currently resides in Scotland.
"Half of the applications we received this year were from out-of-state choreographers," states Harris, "We are happy to have garnered national awareness, but also excited to bring these choreographers into Atlanta to premiere work. This only grows Atlanta's dance community to a national level."
Dance Canvas has also developed a choreographic partnership with Kennesaw State University's Dance Department, working closely with Dance Department chair, Ivan Pulinkala. In its third year, the choreographic partnership allows one talented student choreographer to premiere their work with Dance Canvas before taking the piece to the American College Dance Festival.
"Our work with KSU allows a very talented young choreographer to present and get their work reviewed alongside professionals in the field. This is not an opportunity that most young choreographers have during their college experience," says Harris.
Pulinkala says, "Dance Canvas serves as an ideal venue for us to showcase the work of a student choreographer, selected after a rigorous jury and mentoring process."
The performance series will also feature over 40 professional dancers that call Atlanta home. Tickets for the 2014 Performance Series are now on sale at the Woodruff Arts Center Box Office at 404-733-5000. For more information on the 2013-14 choreographers, visit www.dancecanvas.com.
Photo by Richard Calmes Photography.