Dance Celebration announces its 32nd Season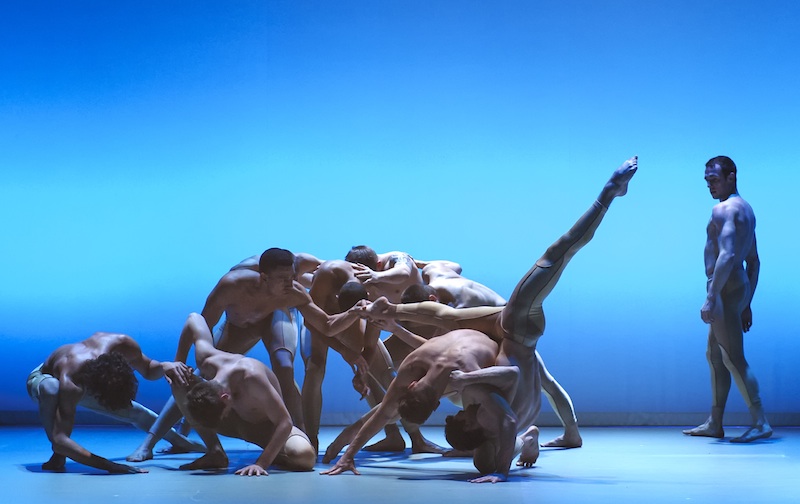 Dance Affiliates and the Annenberg Center for the Performing Arts in Philadelphia recently unveiled its Dance Celebration 2014-15 Season: Visionary Voices. Dance Celebration's 32nd season at the Annenberg Center will feature 10 companies, three of which will make their Philadelphia debut.
Dance Affiliates Artistic Director Randy Swartz explained that the title Visionary Voices appropriately encompasses not only the overall theme of the season, but gives credit to each of the companies' innovative choreographers.
"These companies represent new voices on the scene, or over time have supported new voices by curating their work. These choreographers are doing much more than 'performing steps.' They are dealing with issues, relationships and ideas by conveying their stories through dance, and sharing their vision of the world we live in," Swartz said.
The season will open with BalletBoyz on October 23-25. Founded by two former Royal Ballet principal dancers, the London-based, all-male dance troupe showcases not only artistry through their choreography and use of film, but the athleticism and power that comes with contemporary ballet. BalletBoyz will be performing works by Russell Maliphant and Liam Scarlett.
Making its Philadelphia debut on November 13-15, the Kibbutz Contemporary Dance Company is from Kibbutz Ga'aton, Israel. Founded by Holocaust survivor Yehudit Arnon, the contemporary dance company has been a leading voice for the Israeli performing arts community and is considered to be one of the top international touring companies. Under the artistic direction of Rami Be'er, the company has soared to new heights with much critical acclaim. The program includes Be'er's If At All, a 65-minute full-length piece.
Parsons Dance will return to Dance Celebration on December 4-6. The company is featuring newly choreographed works by Robert Battle (the artistic director of Alvin Ailey American Dance Theatre) and Natalie Lomonte (who has choreographed and worked with MOMIX, Pilobolus and the musical Spider-Man: Turn Off the Dark.) The program will also feature new works by David Parsons, including the company's recent successful collaboration with Allen Toussaint in New Orleans and his signature work, Caught.
Rosie Herrera Dance Theatre makes its Philadelphia debut on January 15-17, 2015. Herrera has been hailed the "Pina Bausch of South Beach" (The New York Times). Her choreography incorporates the spice of Miami and Cuban-American culture with dancers whose backgrounds include ballet, hip-hop and contemporary dance. The program will include Herrera's work Dining Alone and Various Stages of Drowning: A Cabaret, a piece which recreates dream states using dance, theater, cabaret and film.
Black Grace of New Zealand will make a special appearance on February 12-14, 2015. As New Zealand's top contemporary dance company, it is known for fusing western dance with Pacific Island cultural roots to create a visual experience unlike any other. Founder and Artistic Director Neil Ieremia's choreography is filled with physical prowess, stunning imagery and captivating athleticism, as his dancers attack each move with the fierceness of a Pacific Island warrior.
Doylestown native Jessica Lang's company, Jessica Lang Dance, will be making its Philadelphia debut on March 19-21, 2015. Founded in 2011, Lang established her own company after 10 successful years as a freelance choreographer working with nationally known companies including American Ballet Theatre, National Ballet of Japan and Ailey II. Jessica Lang Dance has been making waves as one of the foremost ensembles in contemporary dance, performing striking contemporary works that are ballet-based, exuding in her creations a Paul Taylor and Twyla Tharp influence.
Born in Mexico and raised in Los Angeles, Victor Quijada's Montréal-based RUBBERBANDance Group will hit the stage at the Annenberg Center next. Set for April 16-18, 2015, the company will incorporate elements of ballet, contemporary, hip-hop and street dance. Quijada and RUBBERBANDance will present a program featuring his newest full-length collaborative work, Empirical Quotient.
Closing the 2014-15 season is a Dance Celebration favorite, Pilobolus Dance Theater, returning this year with captivating new work. This physically daring troupe has wowed audiences for Oprah, The Academy Awards and TED. Using collaborative approaches, Pilobolus challenges what the body can do and say. Pilobolus will perform May 7-10, 2015, including a special day-time performance Sunday, May 10.
In addition to the regular season, Dance Celebration will also feature two special events. On November 20-23, Soledad Barrio & Noche Flamenca will be making its Dance Celebration debut with authentic Spanish flamenco, incorporating dance, live song and music. The program will include a full-length performance of Antigona by director/choreographer Martin Santangelo and feature Soledad Barrio as the Principal Dancer. Swiss masters of puppetry and theater-dance Mummenschanz, will be returning to Dance Celebration on December 11-14. With its zany and fun-loving pieces that tell universal visual stories using non-verbal dance-theater, Mummenschanz gives a performance the whole family will enjoy.
The season will also include special talkbacks with companies, free master classes on Friday afternoons and educational performances through the Student Discovery series. For more information, visit www.danceaffiliates.org.
Photo: BalletBoyz performs Liam Scarlett's Serpent. Photo by Panayiotis Sinnos.