Dance Center presents B-Rooted Festival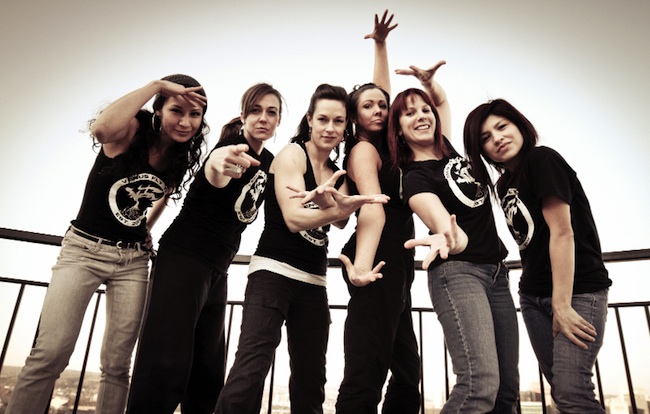 The Dance Center of Columbia College Chicago is partnering with national and local dance artists to continue its B-Series with B-Rooted, a mini dance festival exploring underground hip-hop and street dance culture. Taking place April 3 and 4 in Chicago, B-Rooted will feature local, national and internationally recognized artists, including members of Venus Fly, established in 2005 as one of the first all-styles crews in the Midwest and first female all-styles crews in the U.S., and NINJACHURCH, a locally based all-elements crew with members spread across the world. All festival events are free and open to the public.
B-Rooted is co-curated by Bgirl El La Katrina, co-director of Breakin' The Law: International Festival of Urban Movement and part of NINJACHURCH Crew and Goddistas, and Kelsa Robinson, lecturer at The Dance Center and member of Venus Fly.
"Community is a central facet of the underground street dance scene, where members come together to celebrate birthdays, anniversaries and weddings; to raise money for local causes; or to support a grieving family," said Robinson. "The organizers of B-Rooted invite everyone to join in this community celebration of tradition, sisterhood, tough love, shifting cultural landscapes, challenging conversations and exaltations through dance and hip-hop culture."
B-Rooted welcomes everyone, from veteran street dancers who have won international titles to those who have never set foot inside "the scene." Activities include workshops, verbal cyphers and build-sessions (participatory "panel" discussions), performances, social dancing and battles (a form of competition specific to hip-hop and street dance culture).
Kicking off the festival on Friday, April 3, Venus Fly will host a Composition Workshop from 4 to 6:30 p.m. Members of the crew will co-lead a workshop that engages participants in understanding and embodying technical foundations behind several different street dance forms (popping, breaking, locking, waacking, house and robot) and employing these in the creative process of composition (choreography). Students will learn set phrases and then be guided through steps to develop original phrasing.
After this workshop, from 7:30 to 9:30 p.m., Venus Fly members will then lead a Cypher-Style "Panel" Discussion. The crew will situate their 10-year history within the shifting landscape of the underground street dance scene and its wider sociopolitical context, joined by additional members of the hip-hop and contemporary modern dance communities, who will lead both small and large group discussions around the impact of social, cultural and political factors on the landscape of dance in America. How the are the values and directions in our dance communities being affected by the politics around gender and race, and the popularity of dance in competitive reality TV shows and Hollywood films? What opportunities and concerns are we grappling with as dancers are more compelled and expected to train across myriad styles and forms? How do we want to shape the next decade?
On Saturday, April 4, there will be another discussion and "building session" followed by workshops and Master Classes, and then a B-Rooted All-Styles Jam. The jam will transform the Dance Center's theater into an underground dance party extravaganza, including dance battles, performances and more.
B-Rooted celebrates the 10-year anniversary of Venus Fly, a crew of women who have been battling, performing, organizing and educating within the male-dominated street dance community. The festival also takes an in-depth look at the all-styles phenomenon, a movement bringing together myriad embodied expressions that have grown out of a diverse set of youth sub-cultures within African American and Latino urban communities during the last 40 to 50 years.
For more information on the B-Rooted Festival, visit www.colum.edu/dance-center/performances/index.php. To keep up with Venus Fly, head to www.facebook.com/pages/Venus-Fly-Trap-Crew.
Photo: Venus Fly. Photo by Carly Stinelli, courtesy of The Dance Center.