Dance COLEctive presents two premieres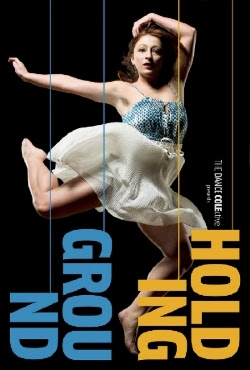 The Dance COLEctive (TDC), under the direction of award-winning choreographer, performer and teacher Margi Cole, will present "Holding Ground," a concert program featuring two premieres and a revival, on October 31, November 1 and 2 at 7 p.m. at Links Hall in Chicago.
Cole's new work will feature the whole company in a collision of ideas drawn from duet material developed last season, the current Internet obsession around quiz-taking and labeling yourself, personal truths and fear of change. Costumes are by Maggie Dianovsky.
In the spirit of TDC's "COLEctive Notions" concerts of the past few seasons, Cole is mentoring four-year company member Madelyn Doyle in creating a work that looks at the physical and mental necessities for an individual to develop a personal philosophy.
Doyle noted, "The materials available to us, such as media, literature and individuals who specialize in specific areas, are the ingredients we use to form ourselves, but what do we ultimately need to create true individuality? Experience. Only then do we choose our path and honestly become what we are meant to be."
Cole will also perform Colleen Halloran's 2003 work Middle of a Life, a solo that reveals a woman's life decisions to this point in time. The movement acts as a mirror to illuminate the victories and regrets she has experienced along the way. Choreographer, filmmaker and educator Colleen Halloran has been making work for almost 20 years, including 35 works for the stage. She is intrigued by the intersection and manipulation of movement, image and story to arrive at a collective "whole." Cole and Halloran, who were students together at Columbia College Chicago, have been collaborating since the late 1980s.
In addition to presenting these works live, TDC will also stream the closing night performance of "Holding Ground" on YouTube. TDC will broadcast the Sunday, November 2nd performance for free via its website at 7 p.m. with the goal of engaging with more potential audiences outside Chicago.
"There are many reasons I'm interested in the idea of streaming a live performance," explained Cole. "I want to share my work with students, collaborators and artists I have relationships with outside Chicago. In fact, we're encouraging people in other states to organize viewing parties, which we'll report on via social media. To date, fans in central Illinois, Ohio, Texas, Alabama, Tennessee and Vermont are already committed to watching! For those in Chicago, it offers another point of view on the live performance, perhaps even from backstage. I encourage Chicagoans to come to Links to experience the live version, then watch it streaming and compare."
Cole and TDC are working with Justin Kulovsek of Nesek Digital on streaming the live performance. "We are proud to be working with TDC on their first live streamed performance," said Kulovsek. "The live video stream allows people around the world the chance to see this unique dance performance." This project is supported by a grant from the Arts Work Fund for Organizational Development.
To purchase tickets to "Holding Ground", visit linkshall.org or call 773-281-0824. To watch the free streaming performance, or for more information, visit dancecolective.com.
Photo by William Frederking. Design by Magnitude Design.