Dance Highlights from Super Bowl LII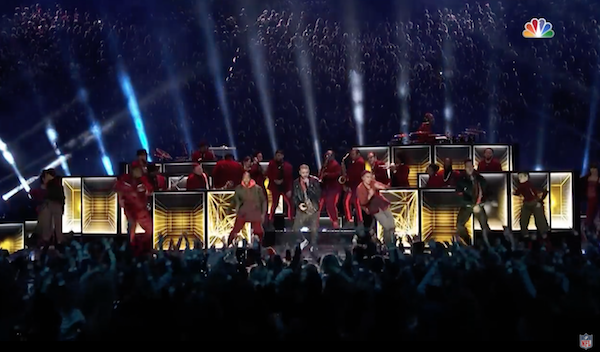 Super Bowl LII stole the national spotlight on Sunday night, filling the U.S. Bank Stadium in Minneapolis, MN with eager fans for the big Philadelphia Eagles vs. New England Patriots game. Here are three instances when dance bounded into center stage this Super Bowl Season:
#1. Justin Timberlake's dance-heavy Halftime Show!
Of course, how could we not start with this?! The football players were not the only on-screen stars as an average 103.4 million viewers tuned into NBC! JT and his dancers were FIRE! Choreographer Marty Kudelka, who has worked with JT since his *NSYNC days, was onstage along with fierce professional dancers like Dana Wilson, Lindsay Richardson, Taylor Thomas, Lindsay J. Ducos and Sophia Aguiar. Their performance was so dynamic and they nailed all the movement! PLUS, how about those Minnesotan high school dance teamers who filled the field for "Mirror" and "Can't Stop the Feeling"? Their enthusiasm was contagious! Watch JT's full Pepsi Super Bowl LII Halftime Show here.
#2. The hilarious NFL commercial featuring Giants players Eli Manning and Odell Beckham Jr.
Broadway choreographer Stephanie Klemons, an original cast member and associate choreographer of Hamilton, was called upon to help turn football players into dancers for an NFL advertisement being created by the agency Grey New York. The idea was to remake the famous finale scene of Dirty Dancing, subtly celebrating how the 2017-18 season was the first since the NFL lifted its ban on dancing post-touchdowns. The ad was a hit and quickly went viral. Manning holding Beckham aloft in the famous pose was pure joy! Watch the commercial here. Read more about the behind-the-scenes rehearsal process in this New York Times interview with Klemons.
#3. Pre-gaming video shout-outs with Boston Ballet, Pennsylvania Ballet and The Rock School for Dance in Philly.
Yeah, so this was technically before the big game and not on TV. But these organizations' videos were so festive and fun! Students at The Rock School for Dance in Philadelphia (the Eagles' home city) leapt, spun and caught footballs in a video posted by NBC10 Philadelphia on social media. It's been watched more than 37k times. Pennsylvania Ballet also sported Eagles' colors and used the team's "Fly, Eagles, Fly!" song as its inspiration for a video filled with fouettés, Swan Lake-like arms and leaps. On the other hand, New England Patriots' neighbor Boston Ballet traded #TutuTuesday for #TouchdownTuesday last week to show its support for the team, sharing a video that had more than 10k views on Instagram.
What was your favorite dance moment of Super Bowl LII?
Photo: Justin Timberlake and his dancers perform at Super Bowl LII. Still via YouTube.