Dance history gifted to Keshet dance center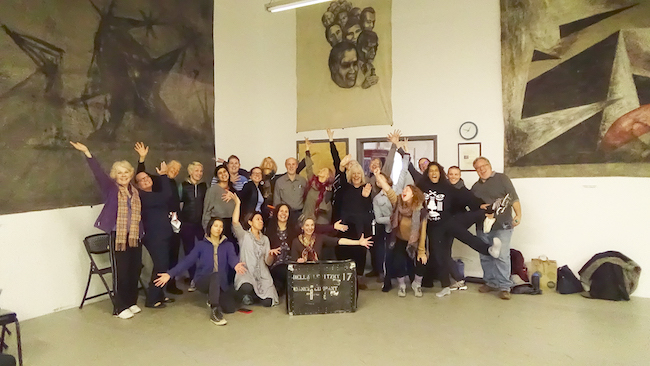 The original set pieces from Lester Horton and Bella Lewitzky's 1949 co-creation Warsaw Ghetto now hang in the studio named for Lewitzky at Keshet Dance & Center for the Arts in Albuquerque, New Mexico.
Lester Horton gifted the set pieces (canvas drops) to Lewitzky and they came into the care of Diana MacNeil when she purchased Lewitzky's home in Los Angeles. MacNeil, part of Keshet's teaching faculty since 2017, was at the dedication to tell the story behind these iconic set pieces, now residing in the Lewitzky Studio, which is one of five dance studios at the center.
"We are so blessed to have Diana MacNeil as part of our teaching faculty here at Keshet," said Keshet Pre-Professional Education Director and Dance Historian Sarah Gonzales. "As a dancer who worked directly with Bella Lewitzky and her groundbreaking technique, Diana brings experience, valuable perspective and knowledge unlike that of anyone else. Warsaw Ghetto was a modern dance work with pungent social commentary, in which Lester Horton addressed the horrors of the Holocaust and World War II. Because Diana has brought these invaluable set pieces to Keshet, we are able to have conversations about the intersection of dance and social commentary while bringing dance history to life for the next generation of dancers."
MacNeil said, "When I recently unraveled the canvas drops, I was reminded of the social-minded works of Lester Horton, and the execution through the exceptional Bella Lewitzky, both champions of human rights, and and it felt fitting that my new home of Albuquerque, and specifically Keshet Center for the Arts, share this history."
The dance piece Warsaw Ghetto was last performed in 1950 and because Lester Horton did not notate his process or choreography it was never re-mounted or duplicated.
For more information on the Keshet Center for the Arts, visit www.keshetarts.org.
Photo: Dancers, Keshet staff and faculty, and community members celebrating the hanging of these iconic dance set pieces. Keshet Founder & Artistic Director Shira Greenberg with Diana MacNeil in center. Photo by Carolyn Tobias.