Dance luminary Trisha Brown dies at 80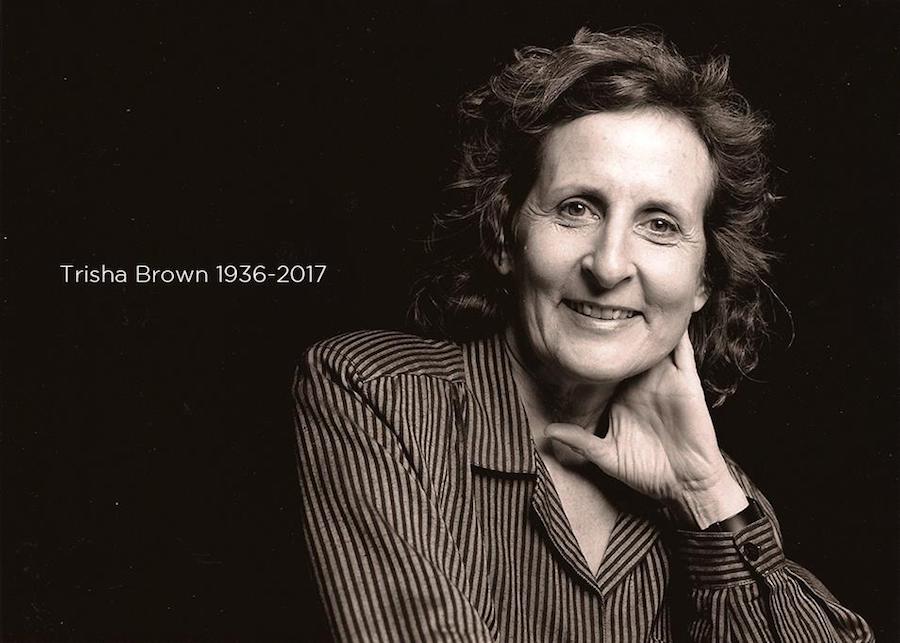 Renowned choreographer Trisha Brown, a leader and founder of American postmodern dance, passed away last Saturday, March 18, 2017. The influential artist was 80 years old.
Barbara Dufty, executive director of Brown's historic dance company, confirmed her death. The New York Times reported that Brown had been treated for vascular dementia since 2011. NYT Dance Critic Alastair Macaulay wrote, "Few dance inventors have so combined the cerebral and sensuous sides of dance as Ms. Brown did, and few have been as influential. Her choreography, showcased primarily in New York, helped shape generations of modern dance creators into the 21st century."
Today various dance organizations mourned Brown's death. In their announcement, her own company posted, "It is with great sorrow that we share the news that artist Trisha Brown (b. 1936) died on March 18 in San Antonio, Texas after a lengthy illness. She is survived by her son, Adam Brown, his wife Erin, her four grandchildren – and by her brother Gordon Brown and sister Louisa Brown. Trisha Brown's husband, artist Burt Barr, died on November 7, 2016." Read the entire commemorative post about her career here.
Pilobolus Dance Theater posted on Facebook, "The world has lost a dance legend. Thank you, Trisha Brown, for you incredible artistry, soul, and grace. You will be dearly missed."
Jacob's Pillow Dance Festival in western Massachusetts also took to social media. The organization posted to its Facebook, "For more than 30 years, the Pillow has worked with Trisha Brown and her company on an unprecedented number of performance engagements, creative residencies, commissioned works, educational programs, PillowTalks, master classes, exhibitions, and other important collaborations. As we mourn Trisha's passing, we celebrate her enduring influence and the continuing presence of her artistry in the legacy of Jacob's Pillow."
The Movement Project in Cleveland, Ohio also reflected on Brown's influence. The company posted, "This weekend, the arts lost a great choreographer, innovator, and mover. Trisha Brown forever changed and challenged modern dance, and her passion and creativity will always inform the field."
In 2010, five celebrated dance artists spoke with NYT writer Claudia La Rocco on working and collaborating with Brown. Check out their telling reflections here.
For a flashback to Brown's choreographic influence, enjoy this clip of her company performing her work Lateral Pass at Jacob's Pillow on August 7, 1986: danceinteractive.jacobspillow.org
Of Brown's many wise and memorable words, one quote that has inspired countless movers and shakers is: "Dancing on the edge is the only place to be." In honor of her legacy, may we keep dancing on the edge and pushing the art form forward.
Photo: Trisha Brown (1936-2017). Photo by Marc Ginot, courtesy of TBDC.