Dance Teacher University offers elite training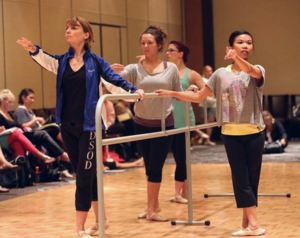 Dance Teacher Web and faculty from the University of Nevada Las Vegas have come together to offer Dance Teacher University on July 26-29 at Red Rock Resort in Las Vegas, alongside the Dance Teacher Web LIVE Conference & Expo the same week. Dance Teacher University will offer the best and most comprehensive teacher-training program for dance teachers, K-12 instructors and dance studios with multiple disciplines.
The program will present a syllabus that is safe, effective and fun that provides a challenging yet easy-to-grasp dance training for beginner through intermediate levels. Level two will be presented in 2014 for those looking for intermediate and advanced curriculum.
Since continuing education is key to being the best, Dance Teacher University will offer certifications for teachers looking to excel in the industry. Recognizing that the basic disciplines of ballet, jazz, tap and modern are essential, the program offers training and lessons in these while still giving instructors alternative information that is necessary for them to stay in touch with the current dance industry. Teachers need to stay relevant and informed with the latest information on their specific subject of study since this keeps them competitive in the field in which they teach.
For dance studio owners where every type of dance discipline is offered this becomes more of a challenge. It is important to be informed about all of the dance forms that are offered at their studio so that they may be called upon to teach. Dance Teacher University will help them not only know the "latest and greatest," but also the foundation from where all of this movement has come from. The training will provide essential information to help them avoid in-studio injuries and to achieve proper training for students.
Overall, Dance Teacher University will be able to provide this first teacher-training program this July that will address beginner through intermediate levels of dance. Through Dance Teacher Web, participants will also have access to continuing education with the website and at the annual convention.
To learn more about the Dance Teacher University curriculum, which includes the basics of ballet, modern, tap and jazz, as well as classes in anatomy, prevention of injury, pre-school movement and much more, visit www.danceteacheruniversity.org.
By visiting the website, interested parties can also access the full training schedule and read biographies on the faculty. Tuition is $895 per student and includes four full days of curriculum classes and seminars as well as access to all afternoon classes and amenities of the Dance Teacher Web LIVE Conference & Expo, which runs concurrent to Dance Teacher University at the Red Rock Resort. All participants have full access to Conference special events and hospitality as well.
To be eligible to enroll, dancers must be ages 16 and up. To register, click here.