DANCEIMMERSIVE: 360-Degree Dance Videos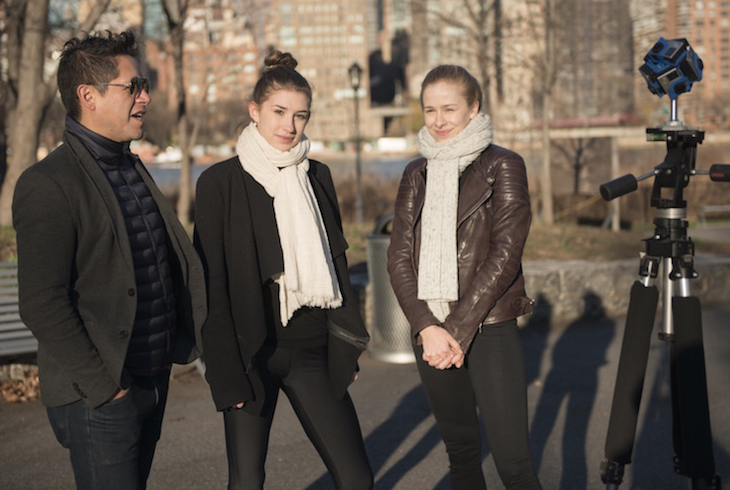 In an exciting new venture, New York City-based choreographer David Fernandez has partnered with digital production agency Visual Mercenary Group to create DANCEIMMERSIVE, a series of dance videos to be shot in a new 360-degree-angle technology. The first of their videos, filmed on NYC's Roosevelt Island and which features two New York City Ballet (NYCB) dancers, has officially been released today.
Dance Informa readers get a special first look. To view "New York Duet - 1", click here using your smartphone (the suggested experience), or watch on your computer here.
This type of video is a recording of a real world scene, for which a viewer has control of the viewing direction – up, down and side to side. In that way, each viewing has the potential to be completely different from the last, like a choose-your-own-adventure experience. Immersive 360 video is still a relatively new technology, and DANCEIMMERSIVE is the first of its kind.
The most common and accessible way to view an immersive 360 video, Fernandez says, is on YouTube apps for smartphones like Android and iOS. Furthermore, he and his partners at Visual Mercenary Group explain that viewers with a Google Cardboard viewer can get an even better experience than by manipulating the phone's directions by hand. Fernandez also assures that other higher-end devices will be available to the public very soon.
"I think it is very personal and unique every time for the viewer, and that's what makes this format so interesting," Fernandez shares with Dance Informa. "Each time you see it, you can choose your own pattern. The action is all around you, and the fact that you have to move to see the pieces makes it somehow interactive, and that makes it even more exciting."
This first video by DANCEIMMERSIVE was shot using a seven-camera rig with a stationary tripod. The videos from each of those seven angles were then stitched together to form the full 360-degree picture.
Fernandez notes that this wide view changes the way in which he choreographs movement and patterns for a DANCEIMMERSIVE film.
"Distance is the most challenging thing," he explains. "But moving around the camera is the most fun part of it. With the 360 video approach, it feels like we are breaking a barrier of filming one single angle at a time. In traditional video, the editor chooses the angle a viewer sees. In this format, we are giving the viewer the opportunity to choose what he/she wants to see throughout the experience. It is like being in a live performance but with the ability to watch the dance multiple times, maybe focusing on a different part or dancer each time. As a choreographer, that is very exciting!"
And as a dancer, performing for 360 video calls for different ways of moving as well.
"Instead of just dancing facing one direction, we had to move around more but remain facing the camera," says NYCB dancer Alexa Maxwell, who, with Laine Habony, is featured in this first video. "There was more circular movement involved, but it was kind of fun!"
From here, Fernandez is excited to uncover the endless possibilities of 360 video. He says DANCEIMMERSIVE plans to shoot in appealing locations throughout NYC and the world, and to include some of the world's most notable dancers and choreographers.
"We are very focused on ways to help the viewer connect with the dancers by bringing them into the experience," Fernandez says. "Every day, I have new ideas how to use it and what to do! I cannot wait to see what other ideas come out as the technology gets refined."
Others are excited about this technology and its potentials, too. "I think this technology could be the next big thing because it really gives people a brand new perspective of dance," Maxwell adds. "You are able to watch different people at the same time and really feel like the dancers are right in front of you. I think it's going to blow some people's minds!"
To keep up-to-date with future DANCEIMMERSIVE videos and plans on its own 360 video app, be sure to visit danceimmersive.com.
Photo: Choreographer David Fernandez with New York City Ballet dancers Alexa Maxwell and Laine Habony on set during the filming of DANCEIMMERSIVE's "New York Duet – 1." Photo courtesy of Fernandez.
---