Dance/NYC Publishes Research Report: Defining "Small-Budget" Dance Makers in a Changing Dance Ecology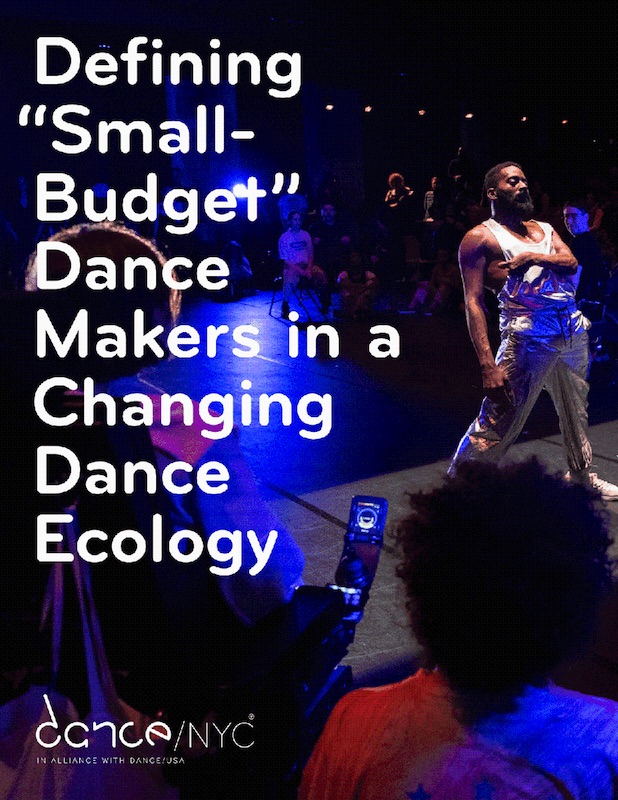 Dance/NYC is pleased to announce the release of its latest research report, Defining "Small-Budget" Dance Makers in a Changing Dance Ecology, a quantitative and qualitative analysis prepared in collaboration with Dance/NYC's research team and Webb Mgmt Services (Carrie Blake and Nelie Jacques).
With leadership support from the New York Community Trust, The Andrew W. Mellon Foundation, and New York City of Department of Cultural Affairs, the study aims to further understand the unique characteristics, inner-workings and needs of "small-budget" dance, already known to be more diverse, resourceful and nimble than the metropolitan New York City area dance field as a whole. The findings are multi-dimensional, deeply influenced by the pervasive impacts of racism and inequality and the profound impacts of the pandemic. The report calls for collective action in order to move this part of the field from a place of surviving to a place of thriving.
"So far we've learned that "small-budget" dance identifies itself as resourceful, adaptable, entrepreneurial, strong, fluid and community focused, with unique freedom of creativity—and alternatively does not wish to be identified by the number of dollars spent in any given year," said Alejandra Duque Cifuentes, Executive Director of Dance/NYC. "These dance makers long for resources that will allow them to focus on depth of process and value (as opposed to product and volume) and provide them with knowledge, consistency, sustainability, inclusivity and equity that will allow them to thrive. These results are not surprising, but reinforce and deepen our understanding of the issues at play rooted in white supremacy."


Dance/NYC's approach throughout this study, its recommendations, and the actions it hopes will follow, responds to the urgency of this moment and is anchored on Dance/NYC's values of justice, equity, and inclusion, as a service organization and collective of dance workers.
Visit Dance NYC for the full report at dance.nyc/sbdmdata2020
Image courtesy of Dance NYC