DancerPalooza coming to Long Beach in July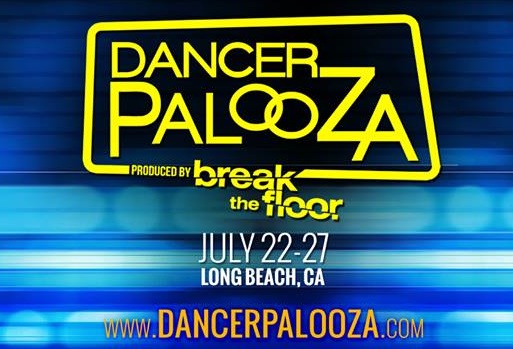 Break the Floor Productions presents DancerPalooza, the first dance festival of its kind coming to Long Beach, California in July. A full and comprehensive dance experience, dancers can enjoy style-specific intensives, top dance performances by professional companies, a unique expo hall presenting various organizations, open classes for all ages, and even nightlife activities and a pool party!
Set for July 22-27, this one-of-a-kind dance festival presents everything a dancer could want! From contemporary dance to musical theatre, DancerPalooza will bring together the industry's top choreographers, master teachers, professional dancers and young dance students all under one roof for one exclusive weeklong event.
DancerPalooza will be held at the Long Beach Convention Center, located in the heart of downtown Long Beach and within walking distance of the Hyatt Regency hotel and shopping, dining, attractions and sightseeing of picturesque bays. The event is even right beside five miles of sandy beach!
Intensives include the Collective (contemporary), Slide with Sinatra (tap), Kamotion (hip-hop), Bobby's Beat Camp (jazz funk), Marquee (musical theatre) and Pool Party (various styles.) All intensives are age-specific, multi-day dance opportunities.
The Collective is a contemporary workshop for dancers ages 13 and older that is presented by nine of the most in-demand contemporary artists – Mandy Moore, Mia Michaels, Sonya Tayeh, Teddy Forance, Stacey Tookey, Travis Wall, Dee Caspary, Benoit-Swan Pouffer and Jess Hendricks.
Slide with Sinatra is a tap workshop for dancers ages 7 to adult. It is led by tap master Mike Minery, who will pack in 20+ hours of classes and rehearsals and a combination that will be performed at the end of the festival. Other tap teachers include all-stars Anthony Morigerato, Ayodele Casel, Melinda Sullivan, Danny Wallace, Anthony Russo and more.
Bobby's Beat Camp is a jazz funk workshop for dancers ages 13 to 25 who are looking to break-in to Los Angeles' commercial dance scene. It will bring in sought-after dancers and choreographers like Bobby Newberry, Jaquel Knight, Sheryl Murakami and Taja Riley.
Kamotion is a hip-hop workshop also for ages 13 to 25. It will feature a star-studded krew including Twitch, Misha Gabriel, Kenny Wormald, Willdabeast and Marty Kudelka. The non-stop classes, events and special performances will end in a professional music video directed personally by Misha Gabriel and Kenny Wormald.
Marquee is a musical theatre workshop that gives dancers 13-25 years old the chance to work with some of Broadway's best choreographers. Teachers include Al Blackstone, Andy Blankenbuehler, Ricky Hinds and Ryan Kasprzak. The week's worth of classes features theatre dance, vocal lessons and acting instruction.
Finally, the Pool Party Intensive is a workshop for ages 7 to 12 that mixes in various dance styles, like jazz, contemporary, musical theatre and hip-hop, culminating in a combination that will be performed live for all festival attendees at the closing Pool Party. The choreography will incorporate 20 inflatable mini-pools.
For dancers who want to participate in one of these six killer intensives but not commit to the entire week's worth of classes, DancerPalooza will present Crash Course. This is an opportunity for dancers to take just three days of classes from July 25-27. Dancers can pick their style, classes and teachers.
Another unique part of DancerPalooza is Beat Street, a jam-packed expo hall featuring over 100 dance-related street vendors (including free giveaways!) and a performance stage. There will also be special sections like Beach Chair Chat, an area for special interviews with dance celebs, and Carnival Corner, where dancers can play games and win prizes. The performance stage will present Stacey Tookey's Still Motion Dance Company and Shaping Sound, as well as many other companies, over the course of the festival.
For more information on the highly anticipated DancerPalooza, visit www.dancerpalooza.com.