Dancers perform to help grant a special wish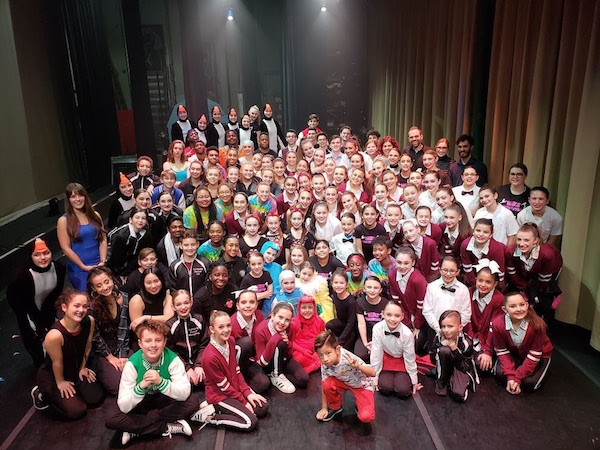 As a studio with more than 600 students, Dance Connection in Islip, New York wields the power to help give back in significant ways to its community. In recognition of this, the studio's Competition and Performance Teams often seek ways to better the lives of those around them. Recently, they did just that through their partnership with the Make-A-Wish Foundation.
Dance Connection's partnership with Make-A-Wish of Suffolk County began in 2012 when their Competition Team started performing at the organization's annual holiday party, and then expanded to their Believe Day celebrations, annual gala performances.
In 2016, Dance Connection took it's partnership with Make-A-Wish to the next level, creating the Making Wishes Grow performance initiative to bring dance studios from across Long Island together with professional performers from Long Island and New York City to raise money for the Make-A-Wish Foundation.
Each year Making Wishes Grow has been given the opportunity to help grant the wish of a local child through Make-A-Wish of Suffolk County. This year the group was working to grant the wish of Matthew, who was referred to the Make-A-Wish Foundation in 2015 when he was diagnosed with Langerhans Cell Histiocystosis, a rare cancer that causes LCH cells to build up in certain parts of the body, where they can damage tissue or form lesions.
To help keep his mind off of the treatments and procedures he goes through, Matthew enjoys learning about cars. His favorite movie is Disney Pixar's Cars, which is why when he was medically eligible for a wish come true, he immediately knew what his one true wish would be. Matthew wished to visit the magical Walt Disney World Resorts and be one of the first guests to explore Lightning McQueen's Racing Academy!
With the help of Making Wishes Grow, Matthew and his family boarded their plane on January 26!
The performance featured Create Dance Center, the Dance Connection Performance Team, JAM Dance & Fitness, Trinity Dance Company, and professional performers Milan Bailey, Sara Benjamin, Emily Chamberlain, Joel Feliciano, Oliver Glynn, Emily Hart-Lopez, Kaori Hiwasa, Caitlin Hornik, JEO, Terrell Jones, Chessa Metz, Alexis Montoya, James Moreira Jr, Freddy Muñoz and Shakeena Randolph!
For more information on Dance Connection and its programming, visit www.lidanceconnection.com.
Photo: Matthew backstage with the cast of Making Wishes Grow. Photo by Gina Petitto.