Dancers to lead tours at Boston art museum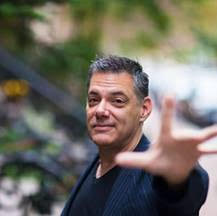 As part of a bold new initiative to animate the galleries with contemporary performances and integrate dance into exhibitions and programs, the Isabella Stewart Gardner Museum's first choreographer-in-residence, Peter DiMuro, is designing new programs, including a dancer-led tour throughout the museum in October.
DiMuro, a performer, choreographer, director, teacher and arts engager, is executive artistic director of Dance Complex in Cambridge, one of Boston's major dance centers. Since 2013, DiMuro has been an enterprising leader who worked tirelessly to help grow the organization. DiMuro was a rising young dancer in Boston before joining internationally-acclaimed Liz Lerman Dance Exchange, where he spent many years as a performer, lead artist and ultimately, artistic director. Currently, he also directs Peter DiMuro/Public Displays of Motion, an inter-generational company of diverse dancers/artists that develops performance works and promotes arts literacy and engagement.
"It is thrilling for me to build a deeper connection to the Gardner and to Isabella herself, and create dances in dialogue with the unique and awe-inspiring collection," DiMuro said. "Illuminating the galleries, programs and exhibitions through movement in such a culturally rich place has endless possibilities."
DiMuro's dancer-led tour, called "The House of Accumulated Beauties," was choreographed during his year-long residency, which began in January 2018. The work was constructed based on DiMuro's and dancers' movement notes around the collection, from museum staff and visitors and from a series of interviews. The tours are free with museum admission but require advance reservation, with performances occurring 12 times over six days on the following dates:
– Thursday, October 11 at 6:30 and 7:45 p.m.
– Monday, October 15 at 2:30 and 3:45 p.m.
– Wednesday, October 17 at 2:30 and 3:45 p.m.
– Monday, October 22 at 2:30 and 3:45 p.m.
– Wednesday, October 24 at 2:30 and 3:45 p.m.
– Thursday, October 24 at 6:30 and 7:45 p.m.
During the Third Thursday event on October 18, DiMuro will also present a special performance in Calderwood Hall that recasts the choreographic material of the tour in a new dimension, called "Small Visitations in a Near An Empty Loom." Visitors will be able to view dancers from the Calderwood's balconies, and dancers will perform lying on the floor, showing the movement from the side to the viewers above.
Over his career, DiMuro has been named a White House Millennial Artist, a Schonberg (Boston) Fellow at The Yard, recipient of a Boston Dance Alliance Fellowship and Boston Foundation's Next Step grant. DiMuro has taught dance all over the country and internationally at universities, colleges and festivals. His choreography has been commissioned by leading international presenters and has received support from the National Endowment for the Arts, MetLife and many state arts agencies. He has served on numerous boards including Dance Umbrella/Boston, National Performance Network, Dance/USA and as a mentor and panelist for the National Endowment for the Arts, New England Foundation for the Arts, Maryland State Arts Council and DC Commission for the Arts. He holds a master's in fine arts in dance from Connecticut College and a bachelor's degree in fine arts for theatre from Drake University. This May, he became the recipient of a Lifetime Achievement Award from Salem State University.
The Choreographer-in-Residence program is both an extension of the museum's long-standing Artist-in-Residency program and a continuation of its commitment to multidisciplinary programming and partnerships in keeping with its founder's vision and legacy. The residency is supported by The Andrew Mellon W. Foundation and is part of the museum's mission to develop visionary multidisciplinary exhibitions, projects and partnerships that animate the collection. The Mellon Foundation also generously supports the museum's Visiting Curator of Performing Arts, Helga Davis, who has invited jazz musicians, choral singers, dancers and spoken word artists to perform at the museum this year.
"Integrating dance into our galleries and programs with our new choreographer-in-residence is very much in the spirit of Isabella Stewart Gardner and truly part of our DNA," said Peggy Fogelman, the museum's Norma Jean Calderwood Director. "Gardner believed in and supported all art forms, bringing them together in her immersive installation. She cultivated relationships with painters, writers, dancers and musicians so we welcome this infusion of dance into the museum. It is an honor to have Peter in this new position."
For more information, visit www.gardnermuseum.org.