DanceTeacherWeb Live moves to East Coast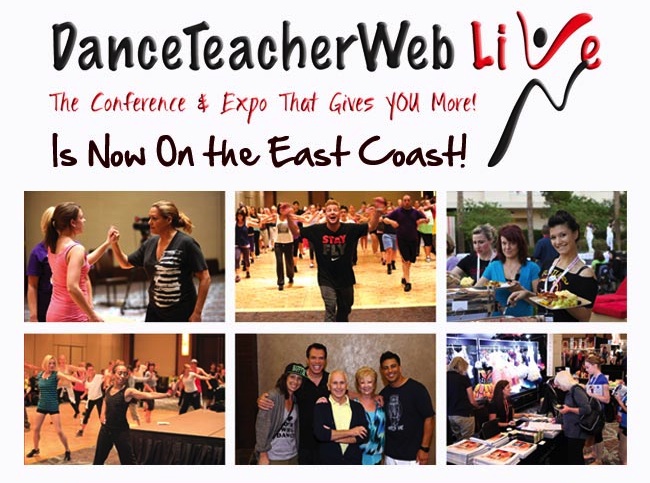 Produced by dance industry luminaries Steve Sirico and Angela D'Valda Sirico, DanceTeacherWeb Live has announced that it is moving to the East Coast this summer. After five years in Las Vegas, the dance teacher conference and expo now comes to the fabulous Foxwoods Resort in beautiful Connecticut on August 3-6.
Known as a creative oasis and springboard for dance teachers and studio owners, DanceTeacherWeb Live provides "inspiration and motivation at a moment's notice." It offers four chockfull days of interactive sessions – featuring "how-to" classes, technique classes and choreography workshops – plus business seminars, a live expo with various dance resources, as well as special events. The goal of DanceTeacherWeb Live is to ultimately provide attendees with the very best in teaching tools and products to enhance business, careers and life.
Praised by past attendees, DanceTeacherWeb Live embodies everything that is unique about DanceTeacherWeb, an organization founded in 2007 to rejuvenate and inspire dance teachers. This event benefits school staff, college dance majors and professional dancers planning for a career transition in addition to teachers and studio owners.
Plus, attendees can revel in a wealth of amenities at Foxwoods Resort, including the casino, a premier spa, over 30 restaurants, shows (like Cirque Éloize's iD) and more. Via train, the resort is only one hour and 15 minutes from Boston and two hours and 30 minutes from New York. Attendees can also arrive by car, bus or ferry.
For more information or to register for DanceTeacherWeb Live, visit www.danceteacherexpo.com. Dance Informa is proud to sponsor DanceTeacherWeb Live again this year. We hope to see you at Foxwoods Resort!