Dare To Dance Challenge by Dance Parade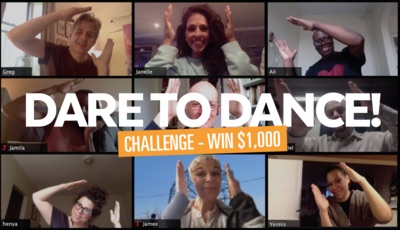 Dance Parade is thrilled to announce the 14th Annual "Virtual" Dance Parade Worldwide on Saturday May 16th starting at 1 PM EST. Leading up to the parade they've launched a Dare-to-Dance Challenge, an open call to choreographers to connect to their dancers remotely during this period of isolation and social distancing. Three winning videos will be awarded with cash prices, and their new work presented at the virtual parade.
Dare-to-Dance Challenge by Dance Parade, will present three one-minute videos in their Virtual Dance Parade Saturday May 16th starting at 1pm. They invite choreographers of all genres to tap into their creativity to come up with a minute of dance movements with your professional dance company, club, or school.
Their goal is to inspire and challenge you to connect to your dancers who are in social isolation using video technology. Each dancer can shoot a phrase or use Zoom technology to create group movements. Thanks to the generosity of Nancy Steele of STEELE DANCE three cash prizes will be awarded. Submission deadline May 7th.
To see examples of dance in isolation videos check out the contest details here!
Dance Parade is also pleased to invite dancers and dance lovers of over 100 styles of dance to join their 14th Annual Dance Parade and Festival online May 16th from 1 to 3pm. Dance-in-place in your living room whether in New York, Paris, Singapore or Zimbabwe to the musical stylings of SiriusXM host and DJ Liquid Todd and fellow Grand Marshals David Dorfman, Princess Lockerooo and Sarina Jain.
Following a ribbon cutting ceremony, dancers of all traditions will be spotlighted in dance battles, a waack attack flash mob, kids dance, tutu jams and a Grandstand Show–Not dancing? The Dance Police gang is throwing down to light up zoom cameras far and wide.
For the best experience, join them with any "internetable" device with a camera and a Zoom Account. (Big screen and high fidelity speakers recommended). You'll be able to pop over the festival to take dance lessons and experience Dance Parade online like never before. Don't have Zoom? See the show on Facebook, Instagram, Twitch and YouTube Live!
To register visit: https://danceparade.org/zoom/