Delve into Countertechnique this summer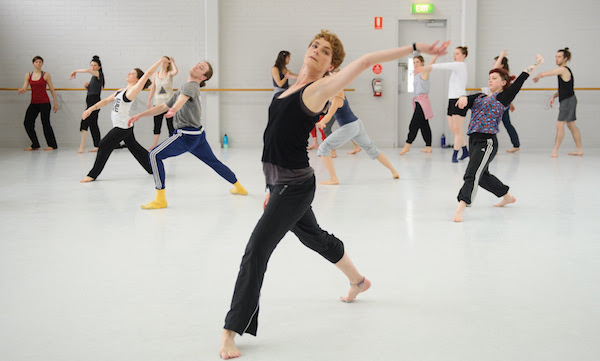 Summer 2018 offers a lot of opportunities to delve into Countertechnique in the USA.
Countertechnique Founder Anouk van Dijk will visit the U.S. again to teach an exclusive workshop at Gibney Dance in New York City on August 21-24. This is an unique opportunity in 2018 to work in the U.S. with the creator of Countertechnique, also the artistic director of Australian contemporary dance company Chunky Move. The daily schedule will start with a Countertechnique class, followed by a Countertechnique Practical Tools session, and will be concluded by a two-hour workshop combining repertoire from Common Ground (van Dijk's most recent work for Chunky Move) and the creation of new movement material.
After last year's success, Kira Blazek Ziaii and Joy Davis have returned to the American Dance Festival's Six Week School, which began June 18 and runs through July 20 in North Carolina. They're teaching Countertechnique and a Countertechnique workshop "Improvisation for Performance" for the whole six weeks.
Lillian Barbeito will be featured at one of the other US major summer schools, teaching from July 23-28 at The School at Jacob's Pillow. As part her own company's popular three-week BODYTRAFFIC Summer Program, she will also bring James Vu Anh Pham out from Australia to present a workshop in Los Angeles from July 2-11, consisting of Countertechnique classes and repertoire by van Dijk for Chunky Move.
Master Teacher Nina Wollny will come from Europe to teach a workshop from August 21-26 at GPHP Summer Intensive 2018 in Miami, where she'll teach both Countertechnique classes and a Partnering Workshop.
Charles Slender-White and Joy Davis will teach their annual workshop from August 12-17 at the Summer Dance Lab in San Francisco by FACT/SF, that besides Countertechnique also offers several other techniques and repertoire workshops from the company.
This month, Kira Blazek Ziaii already taught at the Sarasota Contemporary Dance Summer Intensive and Rosanna Tavarez taught at the Tectonic Marrow Society. Joy Davis also opened the USA Summer Season in Austin with a Countertechnique workshop at The Theorists.
Last but not least, Kelsey Paschich will teach Countertechnique classes from July 8 – August 4 in Albuquerque, as part of the MODAS Summer Intensive, which offers a range of different workshops.
For more information on these opportunities, visit www.countertechnique.com.
Photo: Countertechnique Founder Anouk van Dijk teaching a class. Photo courtesy of Countertechnique.