Deviated Theatre celebrates 10 years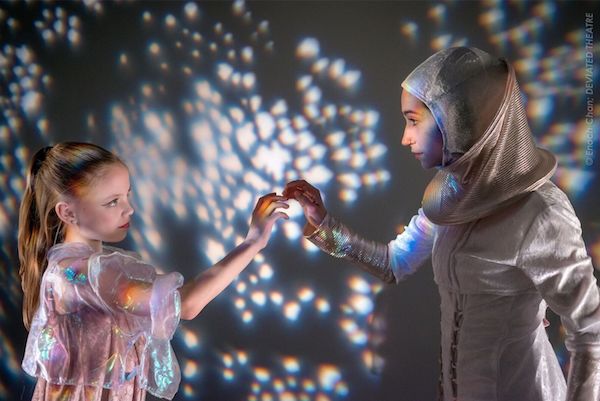 Deviated Theatre, whose mesmerizing dance operas are heralded for their spellbindingly compelling choreography, celebrates its 10th anniversary with the world premiere of Beyond, presented by Dance Place in Washington D.C. on July 7 and 8. With an all-heroine cast, Beyond follows the astronaut Luna on a journey with an interplanetary reach that takes her to the very edge of life.
For Deviated Theatre, the premiere of Beyond at Dance Place is filled with meaning—as it was on Dance Place's stage that the company made its debut exactly 10 years ago. Since then, the company's husband and wife team—choreographer Kimmie Dobbs Chan and theater director Enoch Chan—have created six full-length original dance operas.
"My spirit has caught fire again," says Dobbs Chan. Who, after two years recovering from injuries and having had to step away from the dance studio, looks back at her past 10 creative years and muses about the fresh perspective she has gained: "I am feeling more comfortable in my own skin, more vibrant with my choreographic voice, and I could not be more excited for this new work."
Costumes for Beyond were created in collaboration with avant-garde fashion designer Andy Christ, who also helped create costumes for the company's acclaimed dance opera Creature. This project will also mark a new collaboration with graphic designer Kamajian Kamajinator for projection.
Beyond was workshopped as part of a post-graduate professional development program at the Choreographic Institute at the Dance Loft, and is supported in part by a 2016-17 rehearsal space subsidy grant from Dance Metro DC.
Tickets for the world premiere at Dance Place can be purchased online at www.danceplace.org. For more information, visit www.deviatedtheatre.org.
Photo by Enoch Chan.
---