Dietitian offers educational workshops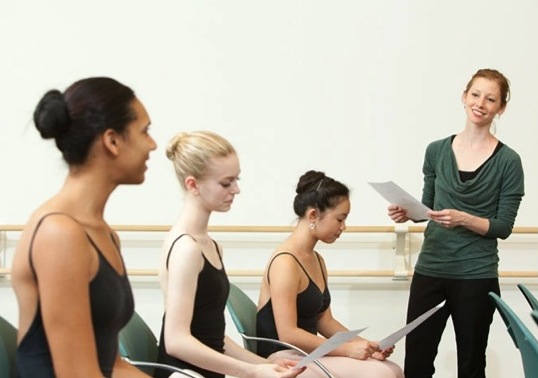 Registered dietitian and former professional dancer Emily Cook Harrison serves as Dance Informa's nutrition columnist, writing many health advice columns specifically for dancers over the years. Now dance schools, studios and companies can request Harrison for a specially led nutrition workshop and/or wellness consultation.
Based out of The Atlanta Ballet Centre for Dance Nutrition, Harrison presents workshops both locally and nationally that are designed to be interactive and tailored to each individual audience. Workshops include: nutrition for the professional dancer; nutrition for the pre-professional dancer; nutrition for college students; nutrition for kids; how dance faculty can identify and prevent disordered eating practices in students; and feeding a healthy family – tips for busy families on the go.
Other topics may include women's health, nutrition during pregnancy and breastfeeding, and vegetarian nutrition.
Harrison holds both bachelor's and master's degrees in nutrition from Georgia State University. Her master's thesis research was on elite level ballet dancers and energy balance and the relationship to injuries. She completed her dietetic internship through GSU and has experience providing nutrition counseling for people with diverse needs, including eating disorders. She developed nutrition plans, school gardens, and farm-to-school curriculum for Atlanta Public Schools, and has taught nutrition and cooking classes at urban schools and Boys and Girls Clubs in Atlanta.
She was a professional dancer for 11 years, dancing with Boston Ballet II and Ballet Internationale, where she worked with legendary Kirov dancers Eldar Aliev and Irina Kolpakova. She also danced for Emmy Award-winning choreographer Michael Smuin in San Francisco before joining Atlanta Ballet in 1998 as a company dancer. Now she's on faculty in the NASD-accredited Centre for Dance Education.
For more information on scheduling a workshop, contact Harrison via email at emily@dancernutrition.com or call 404-245-5379. To read her former columns, head to www.danceinforma.com/USA_magazine.
Photo: Emily Cook Harrison MS, RD, LD teaching for The Atlanta Ballet Centre for Dance Nutrition. Photo by Kim Kenney.