Dive into 'The Little Mermaid' in SoCal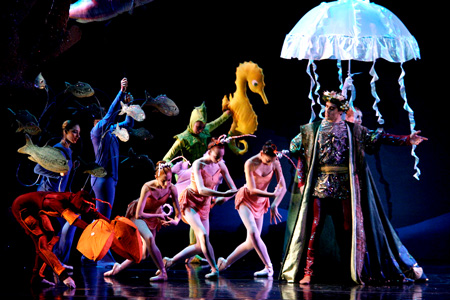 From April 6–28, Inland Pacific Ballet will present its spectacular landmark production The Little Mermaid at three different venues in Southern California. This show boasts magnificent sets (including a live shipwreck), a cast of delightful sea creatures, ornate costumes, puppetry and beautiful dance to create a magical ocean world.
A sweeping sound collage of music from great composers such as Maurice Ravel, Claude Debussy, Benjamin Britten and Ralph Vaughan Williams brings the story of the Little Mermaid to life. Innovative aerial technology and a surprise ending awaits as the Little Mermaid's adventures come to life.
Based on the original fairytale by Hans Cristian Andersen, this production features choreography by Eric Skinner and Daniel Kirk, sound design by Scott Frasier, libretto by Daniel Kirk, scenic design by Nancy Seruto, and costume design by Craig Shepard and Jeanne Nolden.
The show will open at Fox Performing Arts Center in Riverside on April 6, then go to the Lewis Family Playhouse in Rancho Cucamonga from April 13, and conclude at Bridges Auditorium at Pomona College in Claremont from April 27. For more information and tickets, visit www.ipballet.org.
Photo courtesy of Inland Pacific Ballet and Susan Gordon Public Relations.