Eisenhower Dance Detroit presents F|E|E|L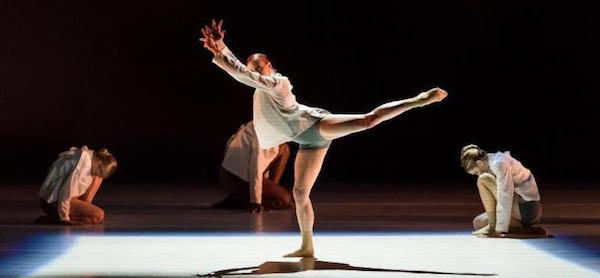 In its final performance of the 2018-19 Metro Series, Eisenhower Dance Detroit (EDD) – Southeast Michigan's acclaimed and internationally-touring contemporary dance company – will present F|E|E|L, an exhilarating evening of dance reflecting on our ever-present need for human connection.
For one night only, experience the awe-inspiring dancers of EDD in a program that includes works by Artistic Director Stephanie Pizzo, choreographer Joshua Manculich and Founding Artistic Director Laurie Eisenhower. The performance will take place on Saturday, March 23 at 8 p.m. at The Berman Center for the Performing Arts in West Bloomfield Township.
"F|E|E|L is a mix of classic and new repertory carefully curated for the evening," Pizzo said. "From the light-hearted work of Joshua Manculich's Well Spent, which plays with the ideology of how money can solve all of our problems, to Laurie Eisenhower's emotional work Kites and Tethers, F|E|E|L sets out to touch the hearts of the audience leaving them with a greater sense of self-worth, acceptance and enjoyment."
Since her retirement in 2017, Founding Artistic Director Laurie Eisenhower has choreographed several original works for EDD, including Kites and Tethers premiering at F|E|E|L. When asked about her work and its meaning, Eisenhower said she believes that "as we go through life, we have people, ideas, history, desires and responsibilities that tether or ground us, and the older we get, the more tethers we gain."
"When [Eisenhower] is in the studio, her vibrant energy and vast knowledge of dance and choreography is inspiring," Pizzo said. "By sharing her stories of past experiences, she has a way of connecting with the newer dancers and brings a sense of 'home' and security to us all."
Also debuting in the production of F|E|E|L are four excerpts of Pizzo's new work, scheduled to premiere in full production during the 2019-20 season. Set to J.S. Bach's Partita for Violin Solo No. 1 in B minor, "the work is reflective of the idea and depth of acceptance."
"As we move through life, we tend to search for something greater or richer than what we possess," said Pizzo. "In a society that judges 'worth' by material possessions, cultural background, sexual orientation and physical appearance, we need to find ways to appreciate the beauty within the imperfections of life, of humans and the path in which we walk."
Although the role of artistic director is her primary focus within the company, Pizzo finds the time and inspiration necessary to create compelling and enlightening works, all of which feature thematic material relevant in today's world.
"I have many approaches to my choreography, the process and where I get inspiration. The subject matter can drive the choreographic process, which can involve journaling, improvisation, music, visual content and/or workshopping the choreographic process with the dancers," Pizzo said. "I usually start with an idea and an approach to the choreography, but I greatly depend on the spontaneity of the choreographic process in the studio and the dancers involved in the work. It's important to me for each dancer to have a personal and honest connection with the idea of the dance and choreography. I think it is what makes our performances special and why they resonate with our audiences."
Tickets for Eisenhower Dance Detroit's F|E|E|L are $31 for Main Floor Seating and $25 for Gallery Seating. To purchase tickets, visit http://eisenhowerdance.org/feel.
Photo courtesy of EDD.