Elevate Chicago presents 45 dancemakers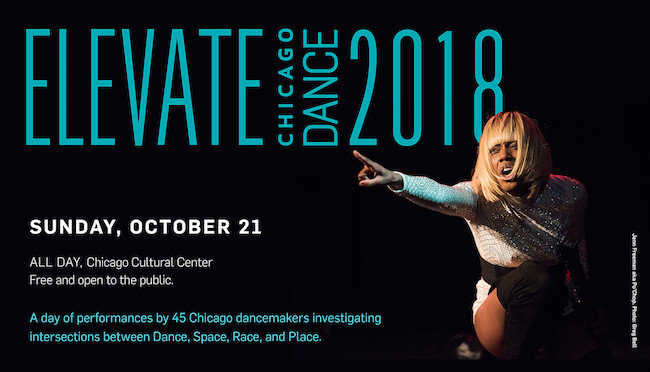 Elevate Chicago Dance 2018 is a day of performances, installations, workshops and discussions by 45 Chicago dancemakers. The broadly defined theme of the day explores intersections between Dance, Space, Race and Place. Free and open to the public, it's set for Sunday, October 21 at the Chicago Cultural Center.
The artists, representing a diverse spectrum of dance with their interdisciplinary works, will make connections with current ideas about the dynamics between race, social spaces, and personal and body histories. For artists as well as for public audiences, the cultural, political and architectural history of the Chicago Cultural Center building is a powerful setting for these relevant considerations.
Dance performances will activate all the floors and multiple public areas of the landmark Chicago Cultural Center, including the Claudia Cassidy Theater, GAR Hall, the Dance Studio and Preston Bradley Hall. The event is produced in connection with the Crystal Anniversary Brunch - Celebrating 15 Years of Chicago Dancemakers Forum.
Elevate Chicago Dance 2018 will feature artists and companies like Ayodele Drum & Dance, Visceral Dance Chicago, Margi Cole, Deeply Rooted Dance Theater, Hedwig Dances, Lucky Plush Productions and Synapse Arts.
For a complete and detailed schedule, stay tuned to www.chicagodancemakers.org/elevate. RSVP here.
Image: Jenn Freeman (a.k.a. Po'Chop), who will perform at Elevate this year. Photo courtesy of Elevate Chicago Dance.
---