Eurotard loves Small Business Saturday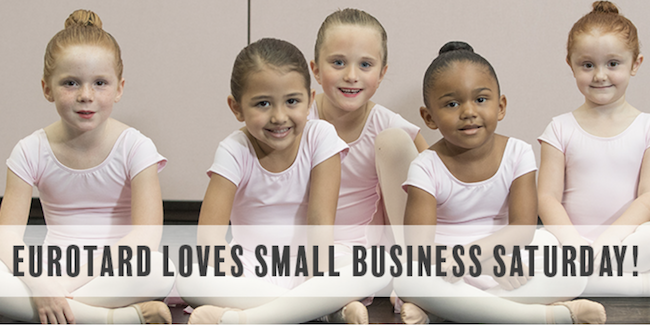 It's that time of year again. You have so many gifts to buy, but in the back of your mind you hear a small voice telling you, "Support your community, shop local". Small Business Saturday sits right in between the craziness of Black Friday and the comfort of Cyber Monday, making it a difficult decision to get up and brave the crowds. But again, you hear that voice telling you to support local business owners and recognize the uniqueness of what they have to offer.
Well, we have good news for you: Eurotard Dancewear combines shopping online with the importance of supporting small businesses. Every single order placed on www.Eurotard.com is routed through a local dance store. Whether you have the product shipped directly to your home, or opt to pick it up at the store, that small business gets 100% of the profit! To you, your order feels like any other online order but to the store, it's as if you walked directly into their store.
Now, why does Eurotard do this when other dancewear brands often claim online sales as their own, leaving retail stores out of the equation by selling direct to consumers? According to Eurotard officials, they choose to include a store in every sale because their team knows the importance of local dance stores to the dance industry and you.
Marketing Assistant Mary Kathryn Scott told us, "In fact, we are one of the last brands to maintain this practice because we value the hands-on experience that dancers get by shopping at local dance retail stores. Imagine a world where you can only buy shoes online. How would you know which is correctly fitted on your foot? What if your performance is tomorrow and you don't have a costume yet? What if you want to physically see the new colors/styles/sizes before buying? These are just a few reasons why local dance stores are vital to your success and we're sure you can think of many more examples."
The Eurotard team is "so thankful" for its stores, studios and customers. Scott wishes everyone a very happy holiday season and urges you to remember to shop local and support your community.