Eurotard offers Dance Scholarships!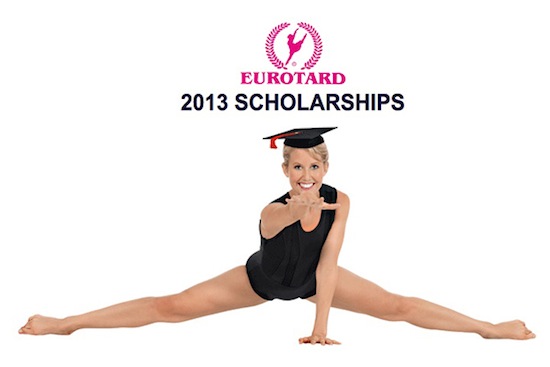 Eurotard, a premier dancewear manufacturer found in dance stores internationally, is offering scholarships to dancers. Whether a beginner in dance or a seasoned ballerina, all dancers are welcome to apply. A total of 13 scholarships ranging from $250 to $1,000 are available.
With no auditions, no essays and no purchase necessary, any dance student 12-22 years old can apply for these drawing-based dance scholarships. The entry deadline for these 2014 scholarships is Saturday, November 30. Dancers can read up on participation rules and then apply online at www.eurotard.com.
Also, Eurotard offers a Cash Donation Program, a fundraising opportunity for studios that doesn't require them to sell or buy anything special. Eurotard will give a cash donation to studios, teams or groups set up in the program when they (and/or their students) purchase Eurotard products.
This program works when a dancer or instructor purchases products from Eurotard and acknowledges that they are affiliated with a specific studio before the sale is complete. The cash donation amount is based on 5 percent of the website suggested retail price. Check with local retailers for store pricing.
Cash donations are paid quarterly based on purchases from that quarter. And the best part? There is no commitment or cost necessary to sign up for the program. It's an easy fundraising tool that requires little set up.
The Atlanta Ballet Centre for Dance Education signed up for the cash donation program and soon thereafter received a donation from Eurotard. The ballet stated, "Thank you for your company's gift to the Atlanta Ballet. We rely on both our corporate and philantropic community for support. Your generosity is an inspiration, and helps us continue the work we are doing in the community, in the Centre for Dance Education and on stage."
For more information on this cash donation program, call Eurotard at 770-475-3045, visit the Eurotard website, or contact a local dance store for more information on how to participate.
Eurotard makes dancewear for all styles of dance and all sizes of dancers. For many years, Eurotard has provided fine dance and fitness apparel to dancers and athletes all over the world. By combining European styling and American craftsmanship, Eurotard creates innovative durable designs made from the highest quality fabrics available. A wide variety of apparel is available for adults and children.