Festival Ballet Theatre launches 30th Season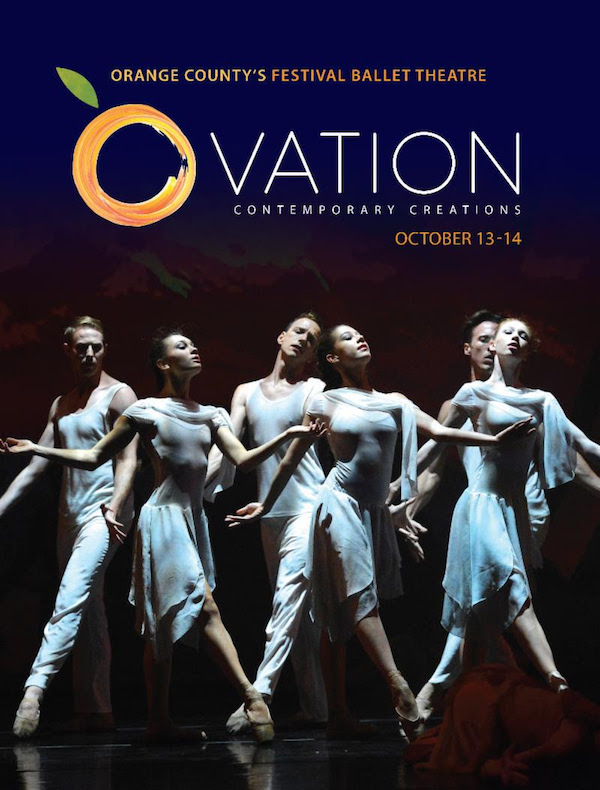 Orange County's premier Festival Ballet Theatre will soon launch its 30th Anniversary Season with Ovation, a program of contemporary ballet works created by southern California choreographers. Founded in 1988, FBT is the resident ballet company of Southland Ballet Academy and is still led by Founder Salwa Rizkalla.
Ovation, which will be presented October 13 and 14, will include Texture of Time by Josie Walsh. This original and thought-provoking ballet explores the essence of time as it changes and morphs from moment to moment. As we travel through the many stages of development and navigate the complex chambers of our hearts, we discover that the child is never lost but instead deeply woven into our ever-evolving personal story.
This ballet is set to original music by Jealous Angel and includes special effects by Academy Award winner Jim Doyle. With the help of light, projections and cutting-edge choreography, the dancers transcend time and space to present a full sensory experience.
Next on the Ovation program is Oops by Viktor Plotnikov. This comical, award-winning piece was presented on the U.S. tour of Youth America Grand Prix's 2011 Gala, Stars of Today Meet the Stars of Tomorrow, and performed in Tennessee, South Carolina and Florida, among other states.
In Oops, the dancers playfully maneuver red pull-on skirts. The innocent and carefree presentation of ballet and modern technique is set to Ponichielli's iconic Dance of the Hours and will be performed by the young artists of Southland Ballet Academy.
The third work included in the Ovation program is Feathered Warning by Andrea Schermoly. Considering the fragility of our world's ecosystem, the work zooms in on birds and how their migrations convey messages of global health.
The Ovation performances are scheduled for Saturday, October 13 at 7 p.m. and Sunday, October 14 at 2 p.m. at the Irvine Barclay Theatre at the University of California, Irvine campus. For more information, visit www.festivalballet.org.
FBT and SBA alumni from 1983 to 2016 should note that they are invited to an Alumni Reception on Sunday. Immediately following the 2 p.m. show, they can reminisce and reconnect while enjoying a spread of food and wine.
Photo courtesy of Festival Ballet Theatre.