Festival celebrates Stravinsky through dance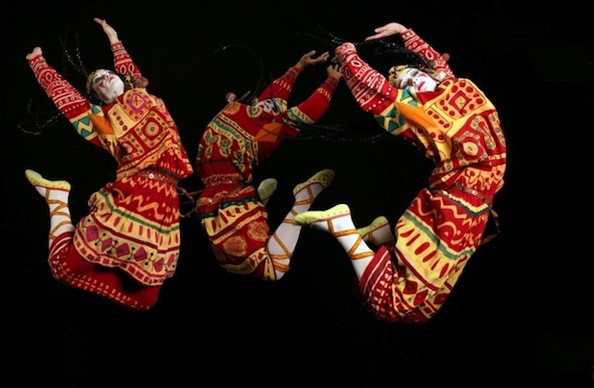 Late last year, the Music Center, based in Los Angeles, California, announced L.A.'s Rite: Stravinsky, Innovation, and Dance, a festival honoring the 100th anniversary of Igor Stravinsky's Le Sacre du Printemps (The Rite of Spring), and the 10th anniversary of the "Glorya Kaufman Presents Dance at the Music Center" series.
The festival, which kicks off this weekend, brings together The Joffrey Ballet, performing its acclaimed reconstruction of the original Nijinsky-Diaghilev Le Sacre du Printemps (The Rite of Spring), Esa-Pekka Salonen and London's Philharmonia Orchestra and its unique digital residency RE-RITE, American Ballet Theatre, Nederlands Dans Theater, Otto Rothschilds' remarkable Los Angeles performing arts photographs, leading experts of Stravinsky, Russian Dance, and Los Angeles dance – using every public space in the Dorothy Chandler Pavilion over a nine-month period. Lorin Johnson, Associate Professor in the Dance Department at California State University, Long Beach, is the artistic advisor for L.A.'s Rite.
Le Sacre du Printemps (The Rite of Spring) was originally choreographed by Vaslav Nijinsky in 1913 and had its premiere at the Theatre des Champs-Elysees on May 29 by Diaghilev's Ballet Russes. Considered now a seminal moment in modernism, the ballet's controversial premiere shocked Parisian audiences with Nijinsky's anti-balletic styles. There were only a handful of performances of the original production, which then disappeared from the stage until The Joffrey Ballet's reconstruction in 1987.
Thor Steingraber, Vice President of Programming for The Music Center, said, "On the occasion of the centennial of Le Sacre du Printemps we bring together in a festival three longtime Music Center luminaries – The Joffrey Ballet, American Ballet Theatre and Esa-Pekka Salonen – all veterans of the Dorothy Chandler Pavilion stage – with many others – to explore The Rite of Spring, and its composer Igor Stravinsky. One hundred years ago world culture exploded with the sight and sound of this work, and we are still recovering. In that vein, Esa-Pekka comes here with the London Philharmonia's unique, innovative and immersive RE-RITE, which will be installed on the stage of the Pavilion itself and will give our audience an entirely new way to experience this music."
Renae Williams Niles, Director of Programming for The Music Center, said, "Twenty-five years ago, on the stage of the Dorothy Chandler Pavilion, The Joffrey Ballet performed the world premiere of the Millicent Hodson and Kenneth Archer reconstruction of Le Sacre du Printemps, giving audiences the ability to experience what the original 1913 audiences saw and heard. Our audience today now has the opportunity to not only experience this landmark work anew, but to also broaden their view through additional works that we will present from two of the world's major dance companies: American Ballet Theatre's production of Apollo, choreographed by George Balanchine, and a new work from Nederlands Dans Theater which we co-commissioned — Chamber – inspired by Rite, with an original score by Joby Talbot and choreography by NDT dancer Medhi Walerski."
Lorin Johnson, L.A.'s Rite Artistic Advisor, added, "Igor Stravinsky lived in Los Angeles longer than he lived anywhere else – and his West Hollywood home was the grand central meeting ground for the composer's friends and collaborators… At the same time early dance artists such as Norma Gould, Ernest Belcher, Micho Ito, Serge Oukrainsky, and Andreas Pavley thrived in the experimental environment of L.A. while choreographers Adolph Bolm, Theodore Kosloff and Lester Horton were directly influenced by Stravinsky and created pieces built on his music. We are building this festival to explore Stravinsky and Los Angeles…"
L.A.'s Rite will begin February 1- 3 at the Dorothy Chandler Pavilion with The Joffrey Ballet's reconstruction of the original Le Sacre du Printemps (The Rite of Spring). On February 2 in the Eva and Marc Stern Grand Hall at the Dorothy Chandler Pavilion, The Music Center is hosting an afternoon-long symposium of internationally recognized experts to discuss Le Sacre du Printemps past, present and future, and to explore the ballet's role historically in Los Angeles. Among many others, this symposium will feature speakers Millicent Hodson Ph.D and Kenneth Archer Ph.D, the actual choreographer's of the reconstruction.
Nederlands Dans Theater's world premiere Chamber will be presented October 18-20, 2013. Chamber is a production commissioned by Nederlands Dans Theater, Den Haag, Carolina Performing Arts at the University of North Carolina at Chapel Hill, and Den Norske Opera & Ballett, Oslo – along with The Music Center.
Prior to each performance by Nederlands Dans Theater, students from the Los Angeles County High School for the Arts (LACHSA) will present an excerpt of Symphony of Psalms, choreographed by Jiri Kylian in 1978 for NDT and set to Stravinsky's composition for symphony and chorus.
Additional performances and activities inspired by L.A.'S RITE will be announced at a later date. For more information or to purchase tickets, call (213) 972-0711 or visit www.musiccenter.org.
Photo: The Joffrey Ballet performing Le Sacre du Printemps (The Rite of Spring). Photo courtesy of The Music Center and The Joffrey Ballet.