Fire Island Dance Festival features pieces from leading choreographer's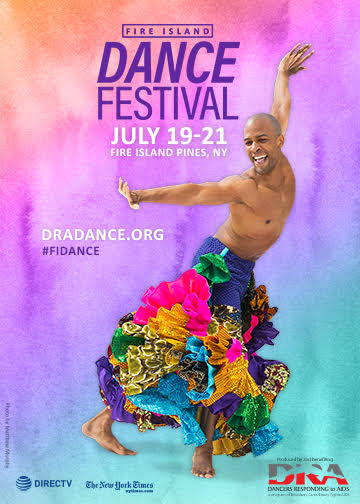 Fire Island Dance Festival features feature pieces by Kyle Abraham, Michelle Dorrance, Paul Taylor, Christopher Wheeldon and More from July 19-21 in Fire Island Pines, NY. Produced by and Benefiting Dancers Responding to AIDS, a Program of Broadway Cares/Equity Fights AIDS
A Tony Award winner, an Emmy nominee, three MacArthur "Genius Grant" fellows and one of the most legendary American dance companies will help celebrate the 25th anniversary of Fire Island Dance Festival on July 19-21, 2019, in Fire Island Pines, NY. Produced by and benefiting Dancers Responding to AIDS, a program of Broadway Cares/Equity Fights AIDS, Fire Island Dance Festival (#fidance) will bring world-class dance from an array of styles to a picturesque waterfront stage on the Great South Bay.
The unmissable dance will take place at three Fire Island Dance Festival performances: the opening performance on Saturday, July 20, at 5 pm; the sunset performance on Saturday, July 20, at 7 pm; and the closing performance on Sunday, July 21 at 5 pm. New this year: cocktails follow each performance at The Pines' Whyte Hall.
Last year's event raised a record-breaking $604,103, with more than $6.1 million raised since the festival began in 1995. Through their generous support, Fire Island Dance Festival attendees have helped ensure that those in need throughout the New York area and in all 50 states, Puerto Rico and Washington, D.C. receive lifesaving medications, nutritious meals, counselling and emergency financial assistance.
In honor of Dancers Responding to AIDS supporters and the festival's 25th anniversary, Broadway Cares/Equity Fights AIDS is adding the Pines Care Center to its National Grants Program. This now-annual $7,500 grant will support a rapid HIV testing initiative throughout the Pines' season
Dancers Responding to AIDS relies on the extraordinary compassion and efforts of the performing arts community to fund a safety net of social services for those in need. As a program of Broadway Cares/Equity Fights AIDS, DRA supports the essential programs of The Actors Fund, including the HIV/AIDS Initiative and The Dancers' Resource, as well as more than 450 AIDS and family service organizations nationwide.
Tickets for Fire Island Dance Festival are on sale now at dradance.org
Image courtesy of Fire Island Dance Festival