FLICfest presents 12 world premieres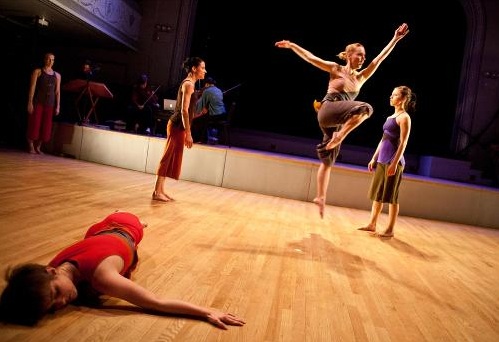 FLICfest (Feature-Length Independent Choreography) is the first Brooklyn festival dedicated solely to the art of the feature-length dance. Each night of FLICfest features complete works by two choreographers, as well as informal cabaret performances encompassing a wide range of styles.
For the 2014 event, FLICfest will present 12 world premieres by 12 separate choreographers over six nights spread out over two weekends. Running January 23 to February 1, the festival will be held at the Irondale Center in Ft. Greene, Brooklyn.
The first premiere, The Emancipation Proclamation of GoGo Gadget!, is by
Alberto Denis. Denis presents his boylesk alter ego in this solo work. A dance theater exploration, it investigates body image, particularly in regard to sexuality.
The world premiere of A. Cuddy Project is by Taiwanese-born Yung-Li Chen. Chen has created a duet centered upon psychologist Amy Cuddy's theories of power posing—adopting confident postures such as a lifted chest, high head and arms propped on hips in order to increase social success. With A. Cuddy Project, Chen is interested in translating the "fake it till you make it" approach to dance.
Lindy Fines' group piece Even As I Tell You This will be a visceral and otherworldly juxtaposition of mechanical and fluid movement states. Fines' movement language tempers intense physicality with abstraction and highly complex movement patterns.
In another group piece, Chris Ferris & Dancers will explore the heady world of stress, anxiety and survival tactics in Perfect Tension, with an original composition by Loren Kiyoshi Dempster.
The fifth work, Aaron McGloin's Native, is for five dancers. It's an eclectic investigation into what constitutes home and identity, featuring jazz, hip-hop, acrobatics and ballet. The diverse cultures and rituals he has experienced in New York City inspired him in this work.
From there, new choreographer Keith Thompson will fuse dance and physical theater in his narrative-driven A Piece of Hamlet's Machine. Rooted in German playwright Heiner Müller's postmodernist drama Hamletmachine, Thompson's piece rounds out his choreographic cycle of text-driven movement.
Then, Emily Berry's Spin Art will feature four dancers who flip upside down, spiral and fling their bodies through space, reminiscent of spin art craft projects. Set to Daniel Bernard Roumain's original score, this piece layers both subtle and abrupt dynamic shifts with gesture and intense physicality.
The eighth work, Hattie Mae Williams' interdisciplinary dance piece I Wish I Could Drink Like a Lady, takes a closer look into the life and poetry of Dorothy Parker, exploring human strengths and weaknesses.
Kora Radella's duet Shred is a fearlessly physical confrontation of the barriers that exist both within and between people. By implementing uncompromising athleticism and even primitiveness, Radella presents two people who must deal with each other in strictly physically demanding terms.
Also, Tina Croll is expanding her 2007 piece Ancient Springs, inspired by poet Kathleen Raine's Defending Ancient Springs and Federico Fellini's film La Strada. Comprised of vignettes— "short stories"— like a little gavotte, a twisted convulsive solo and a stately waltz on some town square, a chorus of dancers swirls through, sometimes commenting on the action, sometimes causing havoc.
The eleventh work, CJ Holm's duet Rare Birds, will be a danced nature documentary about people's desires, guilt, grief and resilience, blending tender and brutal choreographic language with an abstract meditation on the realities that create pressing social and environmental issues.
Finally, Vanessa Walters' Ripening/Yield is an ominous exploration of childhood memory and playtime. The quintet of dancers conveys time both within and outside of rhythm—alternately counting deliberately and avoiding all forms.
For more information on FLICfest, visit www.flicfest.org.
Photo: Dancers Haley Hauglum, Melissa Brading, Kristen Mangione, Grace DiLorenzo and Alexandra Rose of Chris Ferris & Dancers in Circuitous Body. Photo by Matthew Murphy.