Fly on a Wall and staibdance in joint program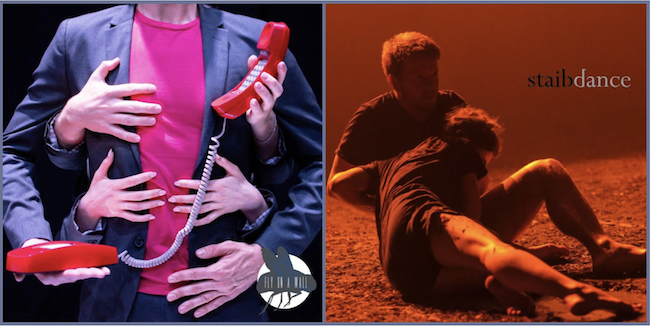 Two small Atlanta-based contemporary dance troupes, Fly on a Wall and staibdance, will soon unite within the Uncaged Community Dance Festival to revisit and re-examine pivotal works in their repertories. Presented by Bluebird Uncaged, the Uncaged Community Dance Festival will bring together some of Atlanta's most talented artists from November 26 - December 2 at 7 Stages Theatre.
Fly on a Wall and staibdance's joint program will fall on Friday evening, November 30, and Saturday and Sunday afternoons, December 1 and 2. Fly on a Wall will reimagine and re-present its multi-layered and infectious Byte by introducing new cast members Noelle Kayser and Jimmy Joyner. This 2015 work is a journey into the world of smarmy, honey-voiced radio hosts and gender-bending machismo.
According to Fly on a Wall, Byte examines interpersonal relationships through the lens of the performative self and the many personalities we project. The work asks, "Which personalities do we allow people to see and when? Is there a genuine self, or are we a collection of voices, masks and identities?" The soundscape echos the fast-paced rhythm of media and communication, in effect "creating a humorous breakneck pace that twists and barrels into the absurd".
Staibdance, on the other hand, will revive its 2016 work moat, which reflects on Artistic Director George Staib's memories of immigrating from Iran to a small Pennsylvania town during the Iran Hostage Crisis. Fueled by heightened anti-Middle Eastern sentiment in the United States, some locals reacted with hostility, throwing tear gas into the family's yard and bullying the kids at school. The family faced — as many do — the cultural assimilation conundrum: how much should/can people change to fit the surrounding culture? What traditions will they give up in the name of fitting in? What is too important and remains intact?
Throughout the work, dancers crawl through, rearrange, sift and throw 200 pounds of red rubber mulch, constantly delineating space then destroying it and moving on. They claim, shift, then reclaim place, sometimes out of necessity, sometimes frustration. moat invites viewers into a natural, messy and constantly evolving world.
In a parallel motif, the work raises questions of self-protection, asking what the difference is between insulation and isolation.
Visit www.7stages.org for more information or to book tickets. 7 Stages is located at 1105 Euclid Avenue NE in Atlanta.
---