Former National Dance Week Director dies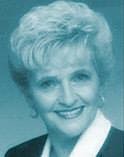 Patricia Goulding, the former executive director of National Dance Week, passed away on Monday, February 9. The dance community mourns her death as Goulding is recognized and respected for increasing national awareness and appreciation for the benefits of dance.
When National Dance Week was just starting and still under the auspices of United Dance Merchants of America (UDMA), Goulding worked tirelessly to raise awareness on the benefits of dance, leading a grassroots effort to spread the news of National Dance Week to communities across the country.
In their announcement of her passing, UDMA wrote that Goulding "developed the regional delegate program, recruited many of the celebrity and educational spokespeople that came on board, worked with Angelina Ballerina to develop a partnership, and got many non-dancing and dancing folks alike to be involved in National Dance Week events."
For her work, she received the "Preservation of Our Heritage in American Dance Award" in March 2006 from the Ann Lacy School of American Dance and Arts Management at Oklahoma City University.
Prior to leading National Dance Week and being involved with UDMA, Goulding operated her own dance studio and raised her family in her hometown of Pittsburgh. She has held membership in Dance Masters of America, Dance Educators of America, the National Registry of Dance Educators and the honor society, Phi Kappa Phi. Her experience in teaching the dance arts to special needs students is as strong as her work with liturgical dance groups.
As UDMA said, she will be missed by her family and the local dance community, "as well as by all of us far and wide that knew her and were touched by her kindness and generosity of spirit."