Full Radius Dance enters new season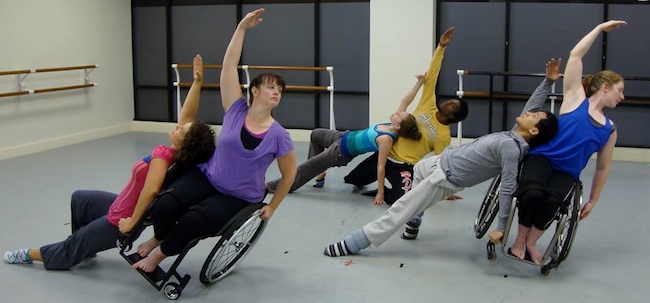 The physically-integrated modern dance company Full Radius Dance returned to the studio in August to begin preparing for its 2014-15 season. While the first few weeks were dedicated to re-staging two shows created specifically for school-age youth–The Legend of the Dragon and Let's Get Physics, Ya'll–the company is now busy preparing for its upcoming performances of Forgotten in November.
Forgotten will take Full Radius Dance out of the theatre to illuminate a nearly forgotten part of Atlanta's multi-layered history. The free-of-charge, site-specific performances will be presented at Pershing Point Park on Peachtree Street on November 8 at 1:45 p.m. and November 10 at 12:15 p.m.
After these informal performances, the company will begin preparing for its mainstage season at 7 Stages Theatre set for March 13 and 14, 2015. On the program is the premiere of the full-length Bete Noire (which premiered its first section this year) and a new work inspired by the photography of Garry Winogrand.
Also, the 2015 Modern Atlanta Dance Festival, created by Full Radius Dance over 20 years ago, is slated for May 22 and 23, 2015. The festival will return to the Balzer Theater at Herren's in downtown Atlanta. Applications for the festival are now being accepted from dance artists through October 24.
For more information on Full Radius Dance and its new season, visit https://fullradiusdance.org.
Photo: Full Radius Dance in rehearsal. Photo courtesy of Full Radius.