Full Radius Dance to present 'New/Favorites'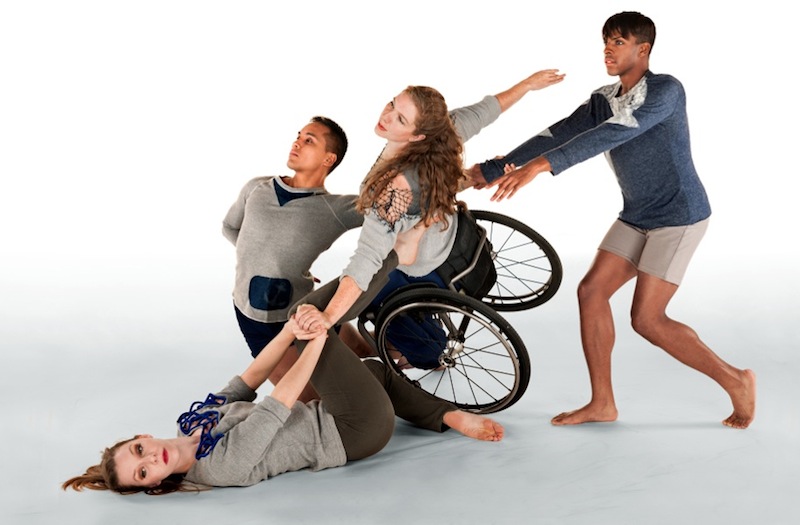 The physically-integrated modern dance company Full Radius Dance returns to 7 Stages Theatre in Atlanta on Friday and Saturday, January 24 and 25 to present the program New/Favorites.
A company comprised of dancers with and without disabilities, Full Radius Dance will present two premieres. First up, It is Four Years Ago and it is Yesterday is a work choreographed by Artistic Director Douglas Scott that explores a continuous rush of memory moving through and beyond a traumatic experience. An excerpt that premiered at the 2013 Modern Atlanta Dance Festival was described by reviewer Gillian Renault of ArtsATL as being "just plain beautiful."
The second premiere is by guest choreographer Lisa K. Lock. The work, entitled Perpetual Motion, is inspired by the energy and the gliding movement of the dancers who use wheelchairs. Lock is a recipient of an Individual Excellence Award by the Ohio Arts Council and a Lester Horton Award for Outstanding Achievement in Choreography. Her works have also been seen in Honolulu, San Francisco, Chicago and NYC, as well as in international showcases in major cities like Paris, Madrid, Vienna, Edinburgh, Lithuania and Guatemala, in addition to her native Switzerland.
The program New/Favorites will also present reimaged works, including Scott's Climb, first performed in 2006. It examines a symbiotic, spiritual relationship shared by three entities.
A revised version of Scott's Gut Instinct will also be presented. After its premiere at the 2013 Inman Park Dance Festival, Scott returned to the studio to rework the third section. He was intrigued by the concept of blind sight, which challenges the common belief that perceptions must enter consciousness to affect our behavior. As Antole France said, "In art, as in life, instinct is enough."
The cast of performers for New/Favorites include Full Radius Dance company members Renee Beneteau, Lindy Dannelley, Kyle Ebbs, Shawn Evangelista, Laurel Lawson and Onur Topal-Sümer, as well as guest artists Jaehn Clare, Teal Sherer and Alice Sheppard.
Shows will be presented at 7 Stages Theatre, located at 1105 Euclid Avenue NE in Atlanta, Georgia. The company is in performance Friday, January 24 at 8 p.m. and Saturday, January 25 at 2 and 8 p.m. Tickets are $20 for adults, $15 for seniors/children and $12 for groups of 10 or more, and are available for purchase at www.fullradiusdance.org.
Full Radius Dance maintains a busy performance schedule in Atlanta, as well as regionally and nationally. Locally, the company presents an annual repertory concert each January, as well as producing the annual Modern Atlanta Dance (MAD) Festival. The company also has a deep commitment to education and outreach and brings a unique artistic experience to schools, senior citizen centers and disability groups on a regular basis.
Photo: From left, Renee Beneteau, Shawn Evangelista, Laurel Lawson and Kyle Allen Ebbs of Full Radius Dance. Photo © Scott Nillson Photography.