Groove launches 2015-16 season in October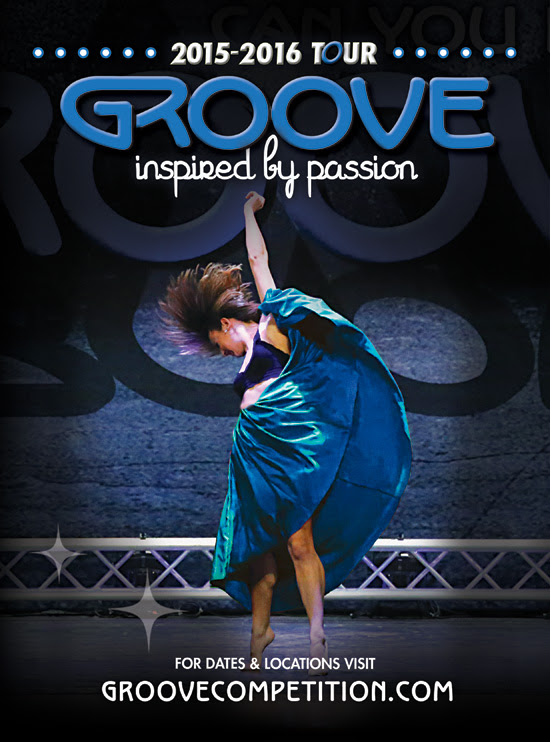 Groove is one of the fastest-growing dance competition and convention series in the nation. Its new 2015-16 season begins in October with a high-energy convention tour visiting five cities.
At Groove, staff and faculty strive to provide a fun-filled, professional and personable environment for dancers to come together and share their passion.
"Our vision is to create a positive, fun and memorable experience for dancers, instructors and families alike and to have all participants challenged and inspired by one another," explains Groove's team. "We are so excited about our upcoming 2015-16 season and cannot wait to see you at a Groove event soon."
For the list of dates and locations, see below. Regional competitions kick off in February 2016. To book your group, visit www.GrooveCompetition.com.
Convention Dates
NJ Eatontown – October 4, 2015
PA Pittsburgh – October 25, 2015
NJ Mahwah – November 1, 2015
MA Randolph – November 8, 2015
MD Annapolis – November 15, 2015
Regional Competition Dates
NJ Voorhees – February 12-14, 2016
CT East Haven – February 19-21, 2016
FL Fort Lauderdale – February 19-21, 2016
NY Long Island – February 26-28, 2016
GA Atlanta – February 26-28, 2016
NJ Robbinsville – March 4-6, 2016
MA Andover – March 4-6, 2016
FL Tampa – March 4-6, 2016
MO Kansas City – March 11-13, 2016
NJ Millstone – March 11-13, 2016
VA Woodbridge – March 18-20, 2016
NC High Point – March 18-20, 2016
PA Lancaster – March 18-20, 2016
NJ Chester (Early) – April 1-3, 2016
ME Westbrook – April 1-3, 2016
MN Minneapolis – April 1-3, 2016
CA San Diego – April 8-10, 2016
IL Washington – April 8-10, 2016
OH Toledo – April 15-17, 2016
TX Houston – April 15-17, 2016
NJ Chester (Late) – April 22-24, 2016
MD Upper Marlboro – April 22-24, 2016
TX Dallas – April 22-24, 2016
NY Utica – April 29-May 1, 2016
AZ Phoenix – April 29-May 1, 2016
WI Milwaukee – April 29-May 1, 2016
PA Pittsburgh – May 6-8, 2016
IN Indianapolis – May 6-8, 2016
PA King of Prussia – May 6-8, 2016
NJ Manahawkin – May 13-15, 2016
National Finals Dates
NJ Atlantic City – July 11-15, 2016
SC Myrtle Beach – July 25-28, 2016