'Hearts for Houston' benefit concert in NYC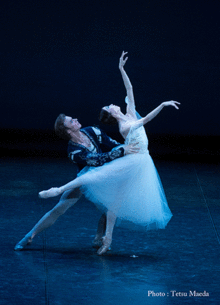 Major dance companies from across the country are joining forces to raise money for United Way of Greater Houston's Harvey Relief Fund. Hearts for Houston will feature a live performance and silent auction at The Ailey Citigroup Theater in New York City on Sunday, October 22 at 7 p.m.
Dancers from the Alvin Ailey American Dance Theater, American Ballet Theatre, Houston Ballet, New York City Ballet, Pennsylvania Ballet, Texas Ballet Theater and The Washington Ballet will appear in the performance. Included in the live performance is a world premiere by Ben Stevenson, O.B.E., and works by Alvin Ailey, Robert Battle, Alexei Ratmansky, Stanton Welch AM and Christopher Wheeldon.
The Hearts for Houston concept was developed by Yuriko Kajiya and Jared Matthews, both principal dancers with Houston Ballet, after witnessing the incredible destruction of Hurricane Harvey. Phoebe and Bobby Tudor, both long-time supporters of the Houston Ballet and United Way of Greater Houston, have partnered with Kajiya and Matthews to present this event. Neiman Marcus is a proud sponsor of this performance.
The relief fund was established by United Way of Greater Houston in response to the widespread destruction caused by Hurricane Harvey. All of the money raised by United Way's Relief Fund will be used to help individuals and families with both immediate, basic needs and long-term recovery services such as disaster case management, minor home repair and, as the recovery progresses, a wide range of unmet needs for which no other help is available.
"We are inspired by and so grateful for the generosity of these creative groups coming together to support those affected by this devastating storm," said Anna M. Babin, president and CEO of United Way of Greater Houston. "This incredible contribution will allow us to continue helping so many of our neighbors recover and rebuild their lives in the wake of Hurricane Harvey."
Houston Mayor Sylvester Turner said, "The City of Houston greatly appreciates the generosity of friends throughout the country who want to help the many Houstonians whose lives were disrupted by Hurricane Harvey. I applaud the efforts of the Tudors and Jared and Yuriko, along with all the other artists donating their talents for this cause."
To attend the live performance, purchase tickets at http://www.brownpapertickets.com/event/3101105. Attendees can purchase a general admission ticket for $150 or a 
VIP ticket for $250, which includes a pre-performance reception and an artist talk/demonstration by former New York City Ballet Ballerina Merrill Ashley.
Premium Access tickets can be purchased for $500. These include access to a dress rehearsal and a post-show toast with performers in addition to the VIP offerings.
For those who cannot attend the live performance but wish to make a contribution to the United Way Relief Fund, visit www.unitedwayhouston.org/flood.
Photo by Tetsu Meada.
---