Hedwig Dances commemorates 30 years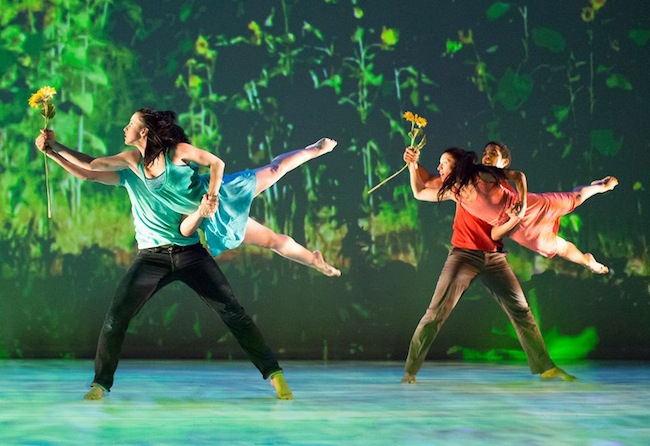 Chicago-based Hedwig Dances celebrates its 30-year legacy with One Grand Dance on Friday and Saturday, May 15 and 16 at the Athenaeum Theatre. Performances will serve as a retrospective of and reflection on 30 years of creating dances under its company banner and 40 years of work by Founder and Artistic Director Jan Bartoszek.
One Grand Dance refers to the idea that one's body of work is related to and reflects the ideas, concerns, idiosyncrasies, style and voice of its author.
"Throughout my career, I have been engaged by the intersection of movement and objects," Bartoszek said. "Movement transforms objects, animating the inanimate, and objects lend poetic imagery to movement."
One Grand Dance is the title of the evening and the means of linking selected works from Bartoszek's repertoire.
Also on the program, company member and choreographer Edson Cabrera premieres Bangeulu. The word "Bangeulu" is of African origin and means literally where the water meets the sky, or the infinite horizon or timelessness. The dance is structured as three duets based on the theme of relationships between friends, family members and lovers.
The evening also includes a 30-year video retrospective edited by filmmaker Nadia Oussenko. And in conjunction with the celebration, Hedwig Dances re-releases Bartoszek's dance-for-the-camera film Arch of Repose with a new music score by Richard Woodbury.
Hedwig Dances presents One Grand Dance on Friday and Saturday, May 15 and 16 at 7:30 p.m. at the Athenaeum Theatre, located at 2936 N. Southport Ave., Chicago. Tickets are now available. For more information, visit hedwigdances.com.
Also, in the lead up to One Grand Dance, Hedwig Dances presents Hedwignites 30, a festive evening honoring the company's history and accomplishments on Friday, March 20 at 6 p.m. at The Arts Club of Chicago. Guests will have the opportunity to meet and mingle with Bartoszek, Artistic Associate and dancer Maray Gutierrez, dancers and designers, as well as learn about the company's plans for 2015 and beyond.
Hedwignites 30 will begin with a cocktail reception featuring globally inspired refreshments and a silent auction, followed by dinner and a live auction. Highlighting the proceedings is an exclusive preview of Bartoszek's One Grand Dance, and guests can also take a salsa lesson from Hedwig dancers Edson Cabrera and Jessie Gutierrez. To reserve your ticket, call 773-871-0872.
Photo: Hedwig Dances in Trade Winds/Aires de Cambio in October 2014 at The Dance Center of Columbia College. Photo by William Frederking Photography.