Highland Park turns to humor for June's First Fridays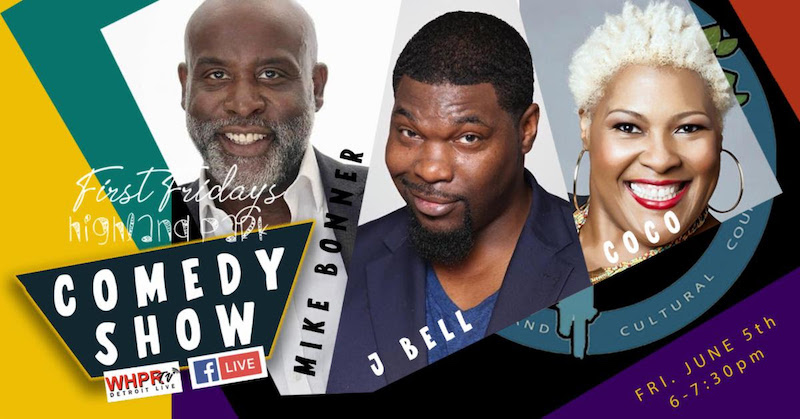 During the pandemic, the Highland Park Arts and Cultural Council continues its tradition of celebrating the first Friday of each month with its neighbors — albeit socially distanced — on June 5 from 6-7:30 p.m. With a focus on artistic activities centered around the community, including local artists and businesses, First Fridays Highland Park events range from poetry slams to dance lessons to karaoke nights to this event featuring local comedians, who have made national names for themselves: John "J. Bell" Bell, Mike Bonner and Coco the Comedian. Partnering with WHPR TV 33, this event will be broadcast across six radio and digital platforms.
Highland Park First Fridays has also ingeniously incorporated a way to bring food into these socially distanced times. Nandi's Knowledge Café at 71 Oakman Boulevard in Highland Park will be serving up a free meal for curbside pickup to the first 50 people that follow the instructions broadcast during the show which will include a code word. This famously delicious homestyle cuisine is near and dear to residents of Highland Park, allowing people to bring one more element of the neighborhood into their homes.
This First Fridays program will be hosted by spoken word poet Octavius Sloane and visual artist Cameron Jenkins. Sloane began spoken word poetry four years ago and remains an active member of the Highland Park Arts and Cultural Council. Jenkins is a former Community HeART Highland Park (CAHP) intern.
Attendees can listen to or view the broadcast at:
Facebook at RJ Watkins (WHPR TV) or Highland Park Arts and Cultural Council
YouTube at TV33 OnDemand
WHPR TV Channel 15
Online at TV33WHPR.COM or RADIOWECANSEE.COM
Downloading the free WHPRTVNOW app on Roku or Amazon Firestick