Hines wins Dancing with The Stars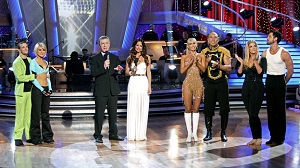 Season 12 is a wrap and what a season it was! Before the dazzling finale, we were treated to many weeks of shoes flying, stars crying, pros stumbling and an ever-changing leaderboard! The hits kept coming (as did the misses) as the stars rehearsed hard and danced harder in pursuit of the coveted Mirror Ball Trophy.
Right out of the gate there were strong performances like Kirstie Alley's Cha Cha and Ralph Macchio's Foxtrot in Week One. Some routines were deemed not-so-hot, as 'Psycho' Mike Catherwood and Lacey Schwimmer found out as the first couple sent home. Hey, someone had to go, right?
Wendy Williams and Tony Dovolani's low scores put them on the short list for elimination and, sure enough, they were the next sent packing. Boxing champ Sugar Ray Leonard was knocked out (with Anna Trebunsakaya) in Week Four. Although Petra Nemcova may be a survivor, she and Dmitry Chaplin didn't survive Week Five.
In Week Six, wrestling superstar Chris Jericho brought some surprisingly elegant moves to the ballroom, but his Tango wasn't tough enough to keep him from being sent home fifth this season. Kendra Wilkinson followed him out the door the next week.
This left us with our Final Five: Chelsea Kane, Hines Ward, Kirstie Alley, Ralph Macchio and Romeo. Even though Romeo's dancing saw great improvement, he received his walking papers in Week Eight. And in Week Nine, we said goodbye to Karate Kid Ralph Macchio. And then there were three.
Chelsea Kane, Hines Ward and Kirstie Alley worked hard to make it to the finals. Chelsea suffered stinging commentary from the judges at times, but always remained upbeat and focused. Hines seemed to do well each and every week. Even if he didn't, you'd never have known it because of that infectious smile. And even though Kirstie suffered every mishap imaginable, she was stronger than ever heading into the finale. When all the judging and voting was done, it was Hines Ward and Kym Johnson who danced away with the Mirror Ball Trophy as the champs of Season 12. Congrats to them both!
Article and photo courtesy of abc.go.com/shows/dancing-with-the-stars/about-the-show