Hollywood Summer Tour offers master classes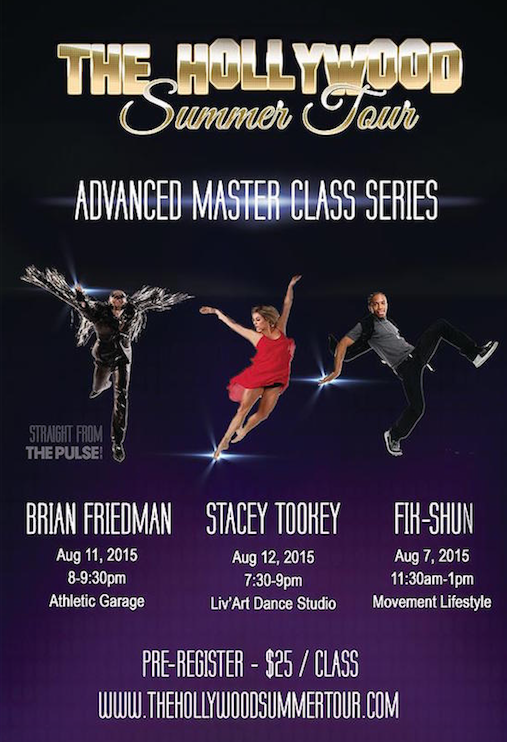 The Hollywood Summer Tour kicked off its Advanced Master Class Series recently with a class led by Fik-Shun, the male winner of So You Think You Can Dance Season 10. Upcoming classes will be led by Stacey Tookey and Brian Friedman in the Hollywood, CA area.
Brian Friedman, straight from The PULSE On Tour, is known for his successful career in the commercial dance industry—having danced with musical artists like Michael Jackson, Justin Bieber, Britney Spears, Beyoncé, Rihanna, Celine Dion, Janet Jackson, Prince, Mariah Carey, Usher and P!nK—and for having worked on films like Charlie's Angels: Full Throttle, You Got Served, She's All That and Uptown Girls, and on The X Factor in two countries.
Likewise, Emmy-nominated Canadian choreographer Stacey Tookey is known for working with musical artists such as Justin Timberlake and Michael Bublé. She has performed as a member of Mia Michaels' cutting-edge dance company R.A.W., New York's Parsons Dance Project, Ballet British Columbia and the Houston Grand Opera's Carmen. She also earned the coveted role as an assistant choreographer for Broadway's A Few Good Men Dancin' and was an original cast member for the entire five-year run of Celine Dion's record-breaking show A New Day at Caesars Palace. More recently, she has gained renown for her choreography on So You Think You Can Dance and for launching her own company, Still Motion.
Friedman's class will be this Tuesday, August 11, from 8 to 9:30 p.m. at the Athletic Garage Dance Center in Pasadena, CA. Tookey will teach the next day, Wednesday, August 12, from 7:30 to 9 p.m. at Liv'Art Dance Studio in North Hollywood, CA. For more information, visit www.thehollywoodsummertour.com.