Houston Ballet caps season with 'Swan Lake'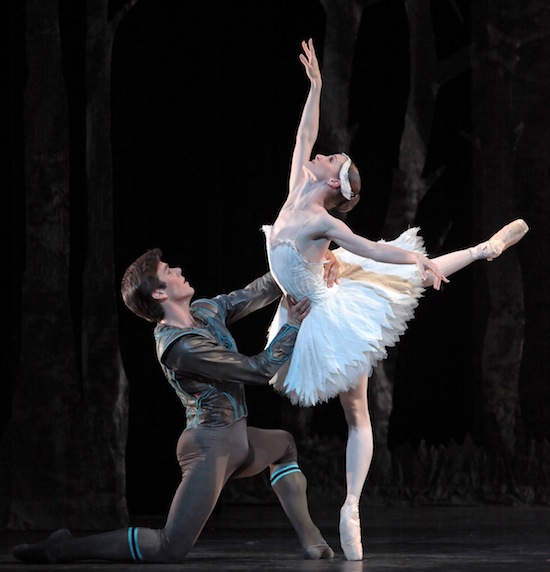 From June 5-15, Houston Ballet will cap its 2013-14 season with Stanton Welch's vibrantly theatrical staging of Swan Lake, which he created for Houston Ballet in 2006.
Set to the hauntingly beautiful Tchaikovsky score, Swan Lake tells the classic tale of Odette – a beautiful maiden transformed into a swan by an evil knight – and the prince who swears his enduring love for her. It's good and evil in black and white, danced on rich and spectacular sets by the late, great New Zealand designer Kristian Fredrikson.
One of the most famous and frequently performed works in the international repertoire, Swan Lake was first performed at the Bolshoi Theater in Moscow in 1877, with a specially commissioned score by Tchaikovsky. Although popular today, the production was not an overwhelming success at its premiere. According to the Oxford Dictionary of Dance, "Neither the ballet nor its ballerina were well received." Yet, it's safe to say the ballet has certainly made a dramatic comeback in the last century.
For this production of Welch's Swan Lake, the role of Odette/Odile will be performed by Principal Dancers Sara Webb, Melody Mennite and Karina Gonzalez (giving her first performance of this role in Houston). First Soloist Katharine Precourt and newly-promoted Soloist Nozomi Iijima will make their debuts in the role.
"I'm thrilled to be given the opportunity to dance the lead in Stanton Welch's Swan Lake," said Precourt. "It is a role that offers such a wide range of expression in both technique and artistry. I look forward to telling this beautiful story of true love to the audience."
Appearing as Prince Siegfried are Houston Ballet Principals Simon Ball, Ian Casady and Connor Walsh. First Soloist Linnar Looris and Soloist Aaron Robison also make their debuts as Prince Siegfried in Welch's version of Swan Lake.
For this version of Swan Lake, there are more than 50 tutus, 45 costume designs, 31 characters and 70 headpieces. The costume for Rothbart (a menacing dragon-like monster) took Houston Ballet's costume shop more than 600 hours of production alone. Designer Kristian Fredrikson, who was inspired by Pre-Raphaelite paintings, created designs for maidens in long flowing gowns, dozens of white swans, four glamorous and steely black swans, sumptuously outfitted Hungarian, Neapolitan, Russian and Spanish princesses, and a royal court boasting costumes made of brocade, cut-velvet, and pearl-encrusted, sequined fabrics.
Houston Ballet's unique presentation of the classic tale proves fascinating as well. In his staging of Swan Lake, Welch made slight changes to the story. "The most critical of them," as William Littler noted for the Toronto Star, "showing the prince falling in love not, as fairytale tradition dictates, with the feathered swan queen Odette but with the human princess she originally was."
In total, Houston Ballet will give nine performances of Swan Lake at Wortham Theater Center in downtown Houston this month. For more information on Houston Ballet, head to www.houstonballet.org.
Photo: Houston Ballet Principal Dancers Sara Webb and Connor Walsh perform Swan Lake. Photo by Amitava Sarkar, courtesy of Houston Ballet.