Houston Ballet presents three free shows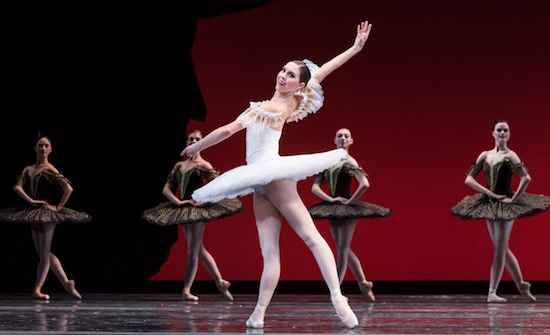 Houston Ballet will present three free performances at Miller Outdoor Theatre on May 9-11 at 8 p.m. These performances will showcase Houston Ballet's extraordinary versatility, featuring an excerpt from a great 19th century classic alongside two 21st century works choreographed by Artistic Director Stanton Welch.
Welch's imaginative and youthful work Play is city life made into ballet with classical technique. Writing at the work's New York premiere on May 28, 2004, Anna Kisselgoff, dance critic of The New York Times, observed, "Play takes off from Moby's album of the same name into a quirky exploration of youthful alienation… Mr. Welch begins Play with dancers sitting as if on a lawn, clothes on the ground. The men put on ties and jackets, the women layered costumes. They move haltingly and come to life in a variety of propulsive gaits. At one point they look like bent-over speed skaters. Everyday gestures (putting on makeup) alternate with confrontational thrusts and parries. The dancers, like voyeurs, watch a couple kiss. This is Mr. Welch in a witty disco and minimalist mode, not his usual classical self."
Houston Ballet will also perform the third act of Paquita, a dazzling classical showpiece that Welch re-staged for the company in 2013, creating 11 variations for the dancers and giving the whole company the opportunity to shine.
Also on the program are excerpts from Welch's Sons de L'âme (Sounds of the Soul), a lyrical, sensuous work for 16 dancers set to piano pieces by Frédéric Chopin. It was first performed in Paris in October 2013 with concert pianist Lang Lang. Reviewing for the Houston Press, critic D.L. Groover observed, "Welch has pared his distinctive choreography to match the refined music. The overall mood is clean and elegant, technically brilliant and powerfully emotive. Is there another contemporary choreographer who can move dancers on and off stage with such proficiency and know-how? The classical vocabulary he uses doesn't only express the music but also illuminates. He makes us see Chopin. The view is hypnotic."
Free tickets to these performances are available (four per person over age 16 while they last) at the Miller Outdoor Theatre box office the day of the performance between the hours of 10:30 a.m. – 1 p.m. If tickets remain at 1 p.m., the box office will re-open one hour before show time to distribute the remaining tickets. As always, open seating is available on the hill. This is a ticketed event for the covered seating area.
Miller Outdoor Theatre is located at 6000 Hermann Park Drive in Hermann Park, just south of the Museum of Natural Science and the Houston Garden Center. Additional information can be found at www.milleroutdoortheatre.com.
Photo: Katharine Precourt and artists of Houston Ballet in Paquita, choreographed by Stanton Welch after Marius Petipa. Photo by Amitava Sarkar, courtesy of Houston Ballet.