Houston Choreographers X6 at Kaplan Theatre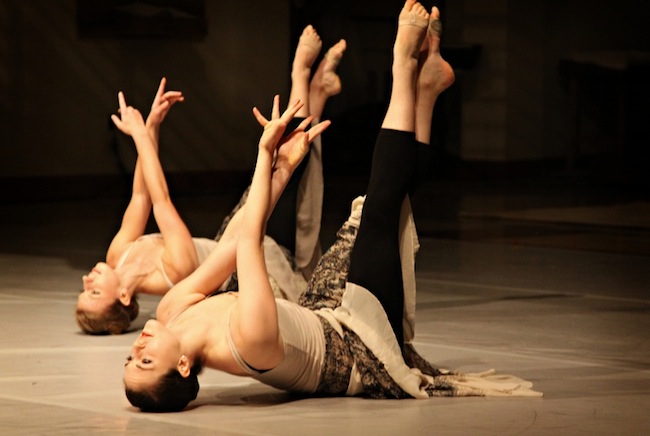 Dance Month at Kaplan Theatre at Evelyn Rubenstein Jewish Community Center of Houston kicked off January 10. In the midst of many other dance events, the highly-anticipated dance concert Houston Choreographers X6 will be presented Saturday, January 25 at 8 p.m. and Sunday, January 26 at 3 p.m.
Houston Choreographers X6, an evening of intriguing choreography by local up-and-coming and established artists, will present exciting new dance works. As a pre-show, audiences can arrive early to experience the visual feast of Motion Captured: Dance on Film, which features site-specific, innovative choreography that combines dance and technology.
Choreographers commissioned for this season of Houston Choreographers X6 are Rebekah Chappell, Randall Flinn, Ashley Horn, Kristina Koutsoudas, Cori Miller and Heather Nabors. Coming from diverse backgrounds and dance experiences, the choreographers will present new works representing a wide spectrum of dance.
First up, local choreographer Rebekah Chappell, a native of Williamsburg, Virginia, teaches at San Jacinto College South and Claire School of Dance. Her work has been presented in Costa Rica and in various Texas showcases. Secondly, Randall Flinn is the Founder/Artistic Director of Ad Deum Dance Company. He has taught and choreographed locally and nationally, including engagements with Cirque Du Soleil-Alegria, Ballet Magnificat, Belhaven University, Friends University, Project Dance NYC, LA, and Sydney, Australia, as well as Hillsong and Dance Revolution Conventions.
Thirdly, choreographer Ashley Horn is also a dancer, filmmaker, costume designer and artist. She has shown choreography and films around Texas and she is the co-founder and curator of Motion Captured: Dance on Film. Horn was named one of the 100 Creatives of 2013 by the Houston Press. Next, Kristina Andriana Koutsoudas is an independent choreographer, performer and teacher of contemporary and folkloric dances of the Middle East and North Africa. With her third award for choreography from the Houston Arts Alliance, Koutsoudas produced the innovative and beautiful production Nour-an-Nisa: Light of Femininity. More recently, she was awarded the prestigious Bearden Award for Teaching Excellence from the Department of Dance at Rice University.
Finally, the last two choreographers are Cori Miller and Heather Nabors. Miller is a native Houstonian and an arts administrator and dance creator. She has worked at Dance New Amsterdam, Dancespace Project and Baryshnikov Arts Center in New York. Her past work has been presented by Dance Houston, Big Range Dance Festival and Houston Fringe Festival. Nabors, on the other hand, is primarily a dance educator. She has served on the faculty of Rice University, Greensboro College, Catawba College, Elon University and The University of North Carolina at Greensboro teaching jazz, tap, modern and choreography.
Tickets are now available for Houston Choreographers X6 at Kaplan Theatre. Tickets are $24 general admission and $12 for seniors and students. For more information on this concert or the other Dance Month events, visit www.erjcchouston.org.
Photo: Ad Deum Dance Company in performance. Photo by Lancia E. Smith.