Hubbard Street Dance Chicago's Fall Series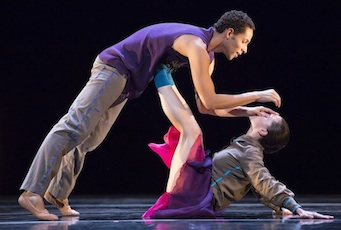 Hubbard Street Dance Chicago has announced its updated programming for the company's Fall Series, to open Season 36 at the Harris Theater for Music and Dance in Millennium Park on October 10–13.
During the Fall Series, Hubbard Street Resident Choreographer Alejandro Cerrudo will unveil his 12th new work for the organization. This world premiere will debut alongside previously announced Fall Series works, such as Passomezzo, a 1989 duet by Israeli choreographer Ohad Naharin; Casi-Casa, a 2009 work by Swedish choreographer Mats Ek for 11 dancers; and a new work by Chicago choreographer Robyn Mineko Williams, to a score by composer/musician Robert F. Haynes, with lighting by Brooklyn-based designer Burke Brown and costumes by fashion designer Hogan McLaughlin.
On August 7, The Princess Grace Foundation–USA announced Robyn Mineko Williams as a winner of its 2013–14 Princess Grace Choreography Fellowship Award. Bonnie Oda Homsey, Dance Panel Chair at the Foundation, stated, "Robyn Mineko Williams' physically distinctive works epitomize Glenn Edgerton's vision to advance the art of contemporary dance by developing its most promising dancemakers. Her tenure as a Hubbard Street dancer exposed her to extraordinary repertory, which in turn set the foundation for processes that serve her emerging voice. I look forward to watching the choreographic investigations of this talented young woman."
Alejandro Cerrudo's 13th world premiere for the company will be revealed as scheduled, during its Summer Series at the Harris Theater on June 5–8, 2014. His Fall Series premiere replaces the quintet Compass from AZIMUTH by Alonzo King. Cerrudo's most recent premiere, One Thousand Pieces, was of unprecedented scale; featuring members of both the main company and Hubbard Street 2, it was Cerrudo's and Hubbard Street's first full-length work. In contrast, his October premiere will complete an intimate Fall Series program focused on human relationships, designed specifically to showcase Hubbard Street's "dancers of spectacular versatility" (The Los Angeles Times).
Cerrudo said, "As a choreographer who is always trying to surprise his audience, I look forward to challenges because they force me toward risks and fresh choices. The best project for me after such a large creation as One Thousand Pieces is to explore the possibilities in a short work for a small cast. This constant change of focus is exactly why my choreographic residency at Hubbard Street has been so productive. To be in a familiar place with artists I know very well is the best way to experiment with such different forms."
Hubbard Street Dance Chicago launches Season 36 with its Fall Series at the Harris Theater for Music and Dance in Millennium Park, located at 205 East Randolph Drive in Chicago, Illinois. Performances open on Thursday, October 10 at 7:30 p.m. Single tickets range from $25 to $99 and are available at www.hubbardstreetdance.com beginning August 19.
Photo: Hubbard Street dancers Jonathan Fredrickson and Jacqueline Burnett in Casi-Casa by Mats Ek. Photo by Todd Rosenberg.