Hubbard Street devotes program to Jiří Kylián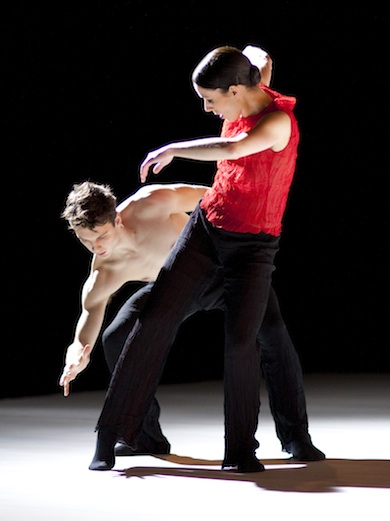 Hubbard Street Dance Chicago, under the artistic leadership of Glenn Edgerton, will present its first-ever mixed repertory program devoted to the work of a single choreographer during its Spring Series, set for March 13–16.
This engagement's four works by Jiří Kylián, celebrated international artist and former director of Nederlands Dans Theater in the Hague, will include Hubbard Street's first performances of Kylián's Sarabande (1990) and Falling Angels (1989). Sarabande is for an all-male ensemble and is set to Bach's second partita for solo violin, featuring electronically manipulated live vocals. Falling Angels is for a cast of eight women and is set to part one of Steve Reich's phased-percussion composition, Drumming. For this work, music will be performed live by Third Coast Percussion, Ensemble-in-Residence at the University of Notre Dame's DeBartolo Performing Arts Center.
The Spring Series continues Hubbard Street's longtime commitment to bringing Kylián's work to theaters across the U.S., starting with the company's April 1998 debut in Sechs Tänze (1986). The work 27'52", made in 2001 for Nederlands Dans Theater 2 with an original score by Dirk Haubrich, returns, as does Kylián's signature masterpiece to music by Mozart, Petite Mort, which was created for Austria's Salzburg Festival in 1991.
Kylián authorities Roslyn Anderson and Urtzi Aranburu staged the works, Dick Schuttel did sound design and effects, and Joost Biegelaar did lighting. They will produce these four works in partnership with Edgerton, himself a former director of Nederlands Dans Theater and Kylián expert.
"With Jiří Kylián's choreography so widely seen now in the United States, it's easy to forget that, for many years, it was rarely presented here," says Edgerton. "I'm proud of Hubbard Street's long history of introducing his deeply moving, profoundly creative choreography to audiences from coast to coast, in both regional and national venues.
He continued, "It's fitting that Kylián is the first artist to receive such a singular programmatic focus from us, which we plan to replicate in coming seasons around other signature Hubbard Street choreographers. These four works by Kylián on our Spring Series program will be a treat to his devoted fans, while providing a perfect introduction to his ideas for those newer to contemporary dance."
Hubbard Street continues Season 36 with its Spring Series, to be presented at the Harris Theater for Music and Dance in Millennium Park, located at 205 E. Randolph Dr. in Chicago, Illinois.
Performances are scheduled for Thursday, March 13 through Sunday, March 16. Single tickets range from $25 to $99. For more information, visit hubbardstreetdance.com/spring or call 312-850-9744.
Photo: Hubbard Street dancers Kevin J. Shannon, left, and Ana Lopez in 27'52" by Jiří Kylián. Photo by Todd Rosenberg.