Hubbard Street's Adaptive Dance Programs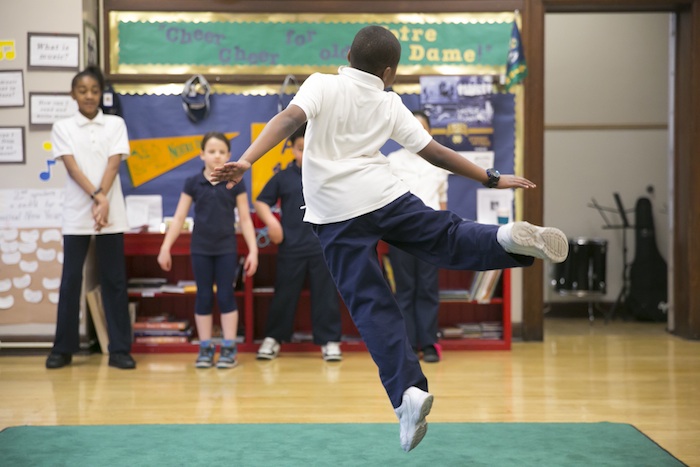 Hubbard Street Dance Chicago, under the artistic direction of Glenn Edgerton and Kathryn Humphreys, Director of Youth, Education and Community Programs, has announced two new Adaptive Dance Programs: The Autism Project, for youth with autism spectrum disorder in grades 1–6; and Physically Integrated Dance, for neurotypical youth ages 8–16 with physical disabilities.
Five-week pilot sessions for both programs are scheduled to begin in June 2014, joining Hubbard Street's continuing Parkinson's Project within a new Adaptive Dance Programs department. Findings and feedback gathered from these one-hour, once-weekly pilot classes will be assessed and applied to full sessions scheduled to begin in fall 2014.
Pilot programs faculty include: Sarah Cullen Fuller, founding teaching artist for the Parkinson's Project since its inception in 2007; M.K. Victorson, Education Programs teaching artist since 2004; and Cheryl Olendzki, Education Programs teaching artist since 2007.
Humphreys says, "Hubbard Street's Education and Community Programs create environments in which everyone dances. Our Adaptive Dance Programs will focus on their participants' strengths — on their talents and potential, as they learn to see themselves as we see them: as dancers and choreographers. These new curricula will highlight concepts of the choreographic process, established dance techniques, and improvisation skills relevant to the goals of each individual. Work is well underway to secure our ability to offer these programs at little or no cost to participants."
Adaptive Dance Programs curricula are being developed and advised by Hubbard Street Education Programs staff alongside Joshua Krasne, visiting Assistant Director of the Resource Center for Autism and Developmental Delays at the University of Illinois; and organizations including Rush Orthopedics, Great Lakes Adaptive Sports Association, the Ann & Robert H. Lurie Children's Hospital of Chicago, and the Chicago Children's Theatre's Red Kite Project. Other experts in relevant fields are also assisting.
Hubbard Street's Adaptive Dance Programs will also draw from findings and research gathered from work with students on the autism spectrum, with Asperger's and sensory processing issues, and with physical and extreme emotional disabilities, during long-term, successful past residencies at Near North Special Education Center, in the Oak Park School District and in Chicago Public Schools.
Further details about Hubbard Street's Adaptive Dance Programs and pilot sessions are available upon request. Email adaptivedance@hubbardstreetdance.com or call 312-850-9744 X 133 for more information.
Photo: David Wolfe, recent recipient of a scholarship to Hubbard Street's Youth Dance Program, with fellow students at Mitchell Elementary School. Photo by Todd Rosenberg.