Hubbard Street's new works festival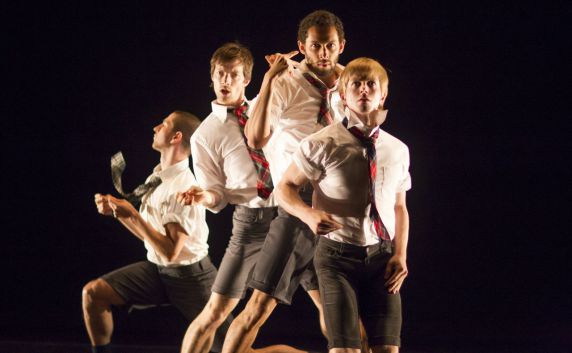 Highly acclaimed contemporary dance companies Hubbard Street Dance Chicago and Hubbard Street 2 will return to the stage at the Museum of Contemporary Art Chicago (MCA) this June for the second danc(e)volve: New Works Festival.
As part of danc(e)volve, dancers perform new works created by rising choreographers within the company and former main company member Robyn Mineko Williams. The 2013 two-week long festival will feature seven new works under consideration to become a part of Hubbard Street's active repertoire. The program is curated by Hubbard Street Artistic Director Glenn Edgerton to highlight the MCA and Hubbard Street's commitment to supporting emerging artists in the contemporary field. Performances take place at MCA's Edlis Neeson Theater on June 6, 8, 9, 13, 14 and 15 (all sold out), and June 16 (matinee and evening showings).
For this year's festival, two new works will be presented by Hubbard Street 2 Director Terence Marling. The first, titled stop…stop…stop, presents a lighthearted riff on power dynamics and miscommunication, featuring a young couple attempting to converse through fragmented voiceover, scrambled gestures and the interruptions of a showman. Only six minutes in length, the work features Marling's original score, while also including selections from Patricia by Cuban bandleader Dámaso Pérez Prado, popularly known as the "King of the Mambo."
Marling's second work is set to the third Ruhevoll movement of Gustav Mahler's Symphony No. 4 in G major. At nine minutes long, it features both main company and HS2 members (as does stop…stop…stop.)
Choreographed by Hubbard Street dancer Penny Saunders, the work Adalea will be presented as her personal farewell to the company. With plans to retire this summer after nine years with the company, Saunders's 15-minute work is named after one of the names selected for her first-born child. The piece includes vignettes based on universal rites of passage and is set to music by Vincenzo Bellini, Tigran Mansurian, Göran Söllscher, and Antonio Vivaldi; all mixed by Marling.
Next, Hubbard Street 2 dancer Andrew Wright has choreographed a 17-minute work titled Agape. Featuring all six of Wright's colleagues in HS2 (Brandon Lee Alley, Alicia Delgadillo, Emilie Leriche, Felicia McBride, Lissa Smith and Richard Walters), Agape seeks to demonstrate the Greek word that means selfless, altruistic love. The work will serve as Wright's mainstage choreographic debut and is set to music by Goldmund (Keith Kenniff), Jóhann Jóhannsson and Pan Sonic.
For the Wandered, a work choreographed by Hubbard Street dancer Jonathan Fredrickson, "is a piece for people who feel they've lost their way," Fredrickson said. At 18 minutes in length, it comes on the tails of his work Untitled Landscape from the first danc(e)volve: New Works Festival. This successfully joined the company's repertoire for its 2013–14 season and was performed in Algeria, Morocco and Spain. For the Wandered, now highly anticipated, features text by Fredrickson and Hubbard Street dancer Alice Klock; music by Johann Sebastian Bach, Ludwig van Beethoven, William Basinski and Tim Hecker; and designs by Branimira Ivanova and Chicago-based visual artist Melena Ausikaitis.
Finally, Grey Horses, a work choreographed by former Hubbard Street dancer Robyn Mineko Williams, will present movement to a score by Chicago-based musician Robert F. Haynes. Grey Horses follows up on Williams' Recall, which premiered during danc(e)volve: New Works Festival at MCA Stage in January 2012, and was subsequently awarded a Joyce Theater Foundation commission.
A special presentation on the program, yet to be titled, is by Hubbard Street dancers and staff who traveled to Algeria, Morocco and Spain in March and April to perform and lead workshops in dance education as part of DanceMotion USA.
The danc(e)volve program will be presented on two weekends. All performances will take place at the MCA, located at 220 East Chicago Avenue. For performance times or ticket information, visit www.mcachicago.org/performances. Tickets may be purchased through the MCA Box Office at 312-397-4010 or through the Hubbard Street Box Office at 312-850-9744.
Also, post-show talks will be offered on Thursday, June 6 and Thursday, June 13, with Peter Taub, MCA Director of Performance Programs, leading a discussion with the artists and audience in the theater following the performance.
Photo: Hubbard Street dancers in ManRouge by Robyn Mineko Williams. From left, Jesse Bechard, Garrett Patrick Anderson, Jonathan Fredrickson and David Schultz. Photo by Todd Rosenberg.